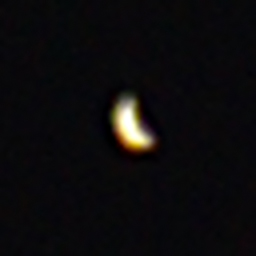 Photographer:
Bartolomeo Montrucchio
Email:
bartolomeo.montrucchio@polito.it
Location of Photo:
Torino, Italy, near city center
Date/Time of photo:
19 April 2017, 4:19 UT
Equipment:
Olympus OM-D E-M10II with a Leitz Apo-Telyt-R 1:3,4/180 (nr. 2993473). Image taken free-hand, only with camera image stabilisation (set for 180 mm). 1/1250s f3,4. Raw image developed with darktable, demosaicing with AMaZE, crop of 64x64 pixel enlarged with CS6 to 256x256.
Description:
Venus at 11d 45' on the horizon, magnitude -4,51, phase 0,17 (Stellarium). It is interesting to see the atmospheric dispersion due to low Alt on the horizon (lowest part of Venus is reddish).