Calendars help us plan our lives. And for amateur astronomers, no plan is complete unless it includes sky events.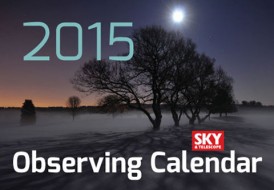 I love wall calendars. Electronic aids definitely have their place, but computer screens are small and handheld devices are smaller. When it comes to planning my life, I like to see the whole month spread out in large format with a big inspirational photo to remind me why I'm planning my life.
By the time I'm done with them, my wall calendars are full of notes and jots — dinner engagements, concerts, dentist appointments, and the like. And even before I start, the calendar provides some of the framework that I need for planning — notably weekends and holidays, which matter to everyone.
Most calendars also show the phases of the Moon, which are essential for people who love to view the stars. But serious stargazers need more. I wouldn't buy a concert ticket for the night of the Geminids, but no normal calendar lists meteor showers. I definitely want to set my alarm clock if the Moon is going to pass in front of Saturn in the early a.m., and that kind of event is totally off most people's radar.
That's why the Sky & Telescope's Observing Calendar is so useful. It shows everything that a North American stargazer needs to plan his or her schedule — not just major holidays, Moon phases, and eclipses, but also meteor showers, apparitions of the planets, occultations, conjunctions, double shadow transits on Jupiter, and even the minima of Algol. I had primary responsibility for the listed events, so I can vouch that it would take at least two weeks to compile and transcribe all these events onto a conventional wall calendar!
And to top it all, the calendar provides a gorgeous astrophoto for each month, everything from scenic starscapes to close-ups from the Hubble Space Telescope. If you have any interest in stargazing, this calendar definitely belongs on your wall!