It's hard to keep track of all the space missions out there. Based on Olaf Frohn's monthly compilation (which you can find at armchairastronautics.blogspot.com), here's our digest of active missions in 2017. We've included astrophysics, planetary, gravity, solar, space weather, and stellar projects. There's still a bunch of non-astronomy stuff up there that we left out!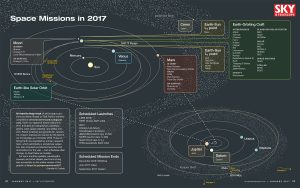 In the graphic on this page, planet locations are accurate for January 1st; mission statuses are current (to the best of our knowledge) as of October 2016. In Frohn's version those spacecraft orbiting Earth are grouped by the type of orbit they inhabit, but in ours we decided to classify them by primary research topic. Admittedly, that's sometimes subjective.
We also tracked down trajectory information for each of the three spacecraft currently en route to their solar system destinations (dotted arrows). The solid arrows for the Voyager craft indicate in which direction they lie, but they're far beyond the somewhat-to-scale boundaries of the outer solar system we've sketched here.
Also included in the graphic are planned launches and terminations for the year. Schedules often change, so treat these with a grain of salt. Spektr-RG, for instance, has been delayed so many times we almost didn't include it — but now that Germany's Max Planck Institute is involved, it looks like this X-ray mission is finally on track for launch in late 2017.
For semi-monthly updates, wavelengths covered, and other details, see Frohn's blog. He's done a great job pulling all this information together, and we hope you enjoy his work as much as we do. We'll be publishing the latest version of our graphic in our January issue every year, beginning with the January 2017 issue, which will be on newsstands in December 2016.
We're currently debating whether folks would enjoy having this illustration in poster form. If we sold it, would you buy it? Let us know in the comments below.
---
Explore the solar system with NASA's Visions of the Future posters.