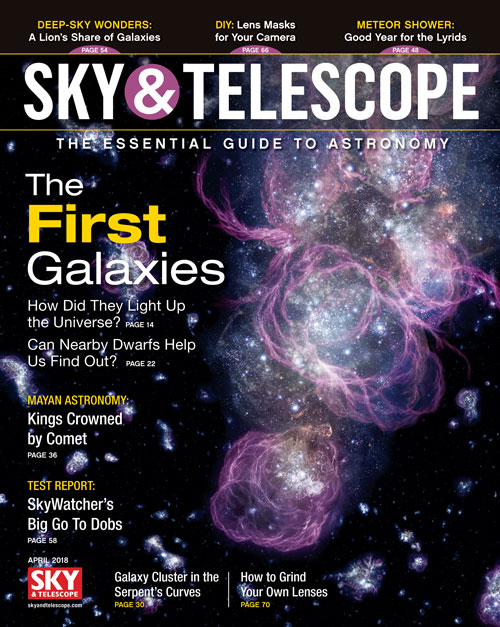 Distant Past and Nearby Proxies of the First Galaxies, Meteor Showers and the Maya, and an 18-inch Dobsonian
In the April 2018 issue of Sky & Telescope, learn about how we use current observations to study the distant past. Probe the earliest galaxies. Explore their modern proxies: oxygen poor dwarf galaxies. Is an ancient meteor shower responsible for the crowning of a Maya king? Discover how an astronomer-maya scholar duo may have found the missing evidence of meteor showers in Maya records. In this issue, we also share our test report on a new 18-inch Dobsonian. Check out our observing picks for the month, including stars, planets, and the Lyrids! Enjoy these and other stories in the April 2018 issue of Sky & Telescope.
Feature Articles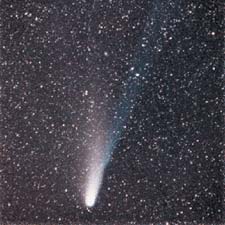 The First Galaxies
Astronomers are traveling backwards in time to observe our universe's early history.
By James Geach
The Little Galaxies That Can
Star-making dwarf galaxies with a trace of oxygen provide insight into the first galaxies and even the Big Bang itself.
By Ken Croswell
The Snake in Spring
Step into the serpent's coils to explore the Hydra I Galaxy Cluster.
By Steve Gottlieb
Halley's Comet & Maya Kings
Did a spectacular, once-in-a-millennium meteor shower prompt the crowing of a king?
By James Romero
Aperture Masks for Camera Lenses
Here's a novel way to make your camera lens perform like a high-quality refractor.
By Richard S. Wright, Jr.
Beyond the Printed Page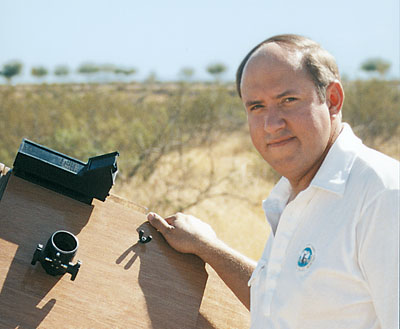 Comet Discoverer Thomas Bopp (1949–2018)
An unassuming amateur astronomer forever linked to one of the greatest comets in modern history has passed away.
New Horizons Timeline
What can we expect from the New Horizons mission in the coming months?
Imaging Foundations with Richard Wright
Get caught up on our newest blog all about the fundamentals of astrophotography.
Lunar Librations and Phases of the Moon
Librations and other lunar data for April 2018.
ALSO IN THIS ISSUE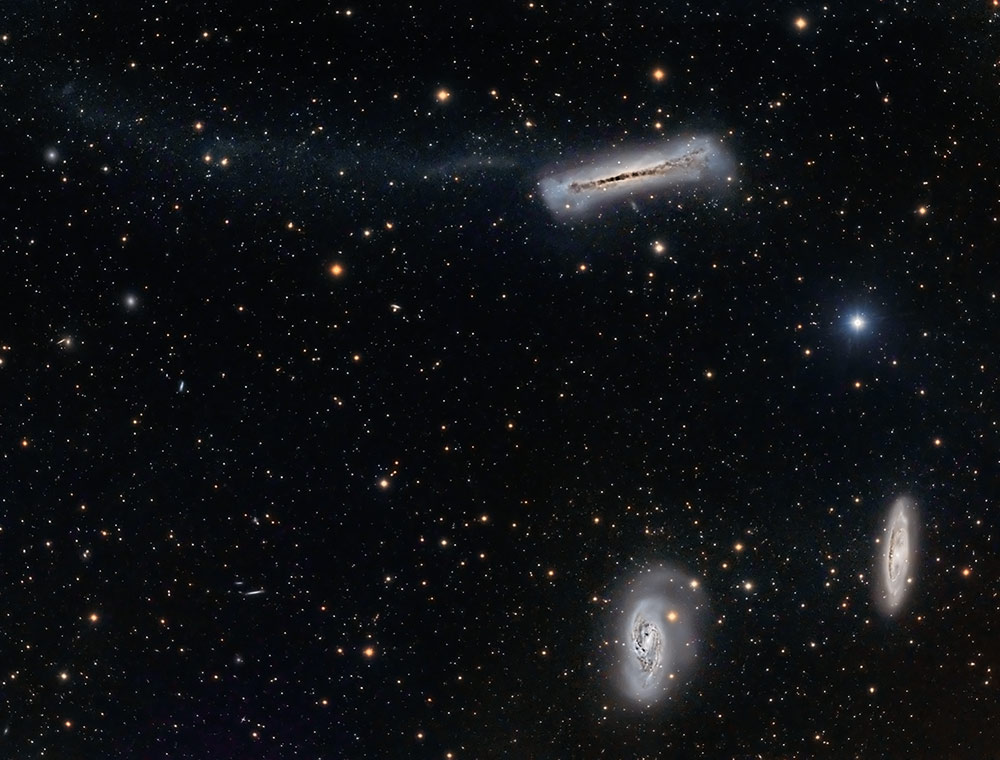 Springtime Skies
Spring ushers in special sights of stars, planets, and more.
By Fred Schaaf

April Showers
The Lyrids, the capricious meteors of spring, are predicted to peak on April 22nd.
By S. N. Johnson-Roehr

Enigmatic Lava Tubes
Challenging to spot, some lunar rilles might someday shelter astronauts from harm.
By Charles A. Wood

Into the Lion's Den
It's deep, it's dark, but this nighttime hideaway is also full of galaxies.
By Sue French

Table of Contents
See what else April's issue has to offer.