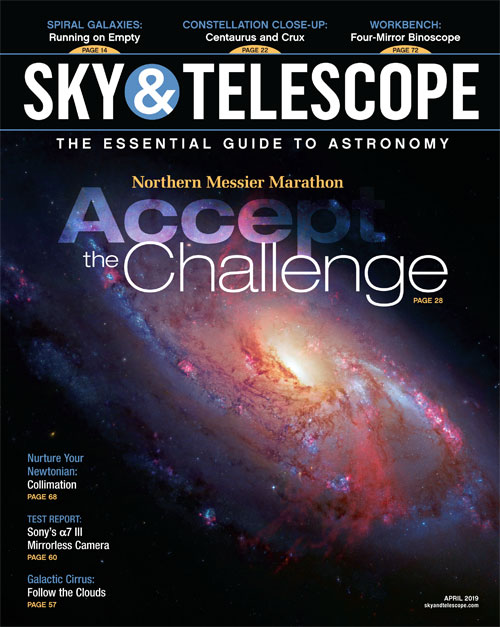 Spirals, Stars, and a Messier Marathon Challenge for April

Sky & Telescope is typically geared toward Northern Hemisphere readers, but the April 2019 takes a dip into the southern sky. Tour Centaurus and Crux, two can't-miss constellations if you have the opportunity to observe them. While you're there, linger in the Alpha Centauri system, star of many a sci-fi novel (and even some venture-capitalist schemes!) thanks to its proximity to Earth. At the same time, we also feature an approach to the Messier Marathon that's do-able in April for those at more northern latitudes, and you'll find tips on viewing Pallas 2 as it passes through northern skies. Regardless where you live, you'll want to read about why the majestic spiral galaxies we see from both hemispheres  have limited lifespans. Also in this issue, find tips and tricks to collimating your Newtonian telescope, an S&T Test Report on a Sony's new mirrorless camera, and a closer look at a binocular scope made with only four mirrors.

Feature Articles
Spendthrift Spirals
The great spiral galaxies that adorn the modern universe are running out of gas and may someday lose their beautiful shapes.
By Ken Croswell

Constellation Close-up: Centaurus and Crux
These far-southern constellations rank near the top in beauty, brightness, and historical interest.
By Tony Flanders

A Northern Run
Follow these tips to get the most out of a Messier Marathon run from higher latitudes.
By Alan Whitman

Alpha Centauri Fever
The allure of the closest star system to ours infects astronomers and venture capitalists alike.
By Javier Barbuzano

Nurture Your Newt II: Collimation
Aligning your reflector's mirrors — critical to getting the best view — is easier than you think.
By Jerry Oltion

Beyond the Printed Page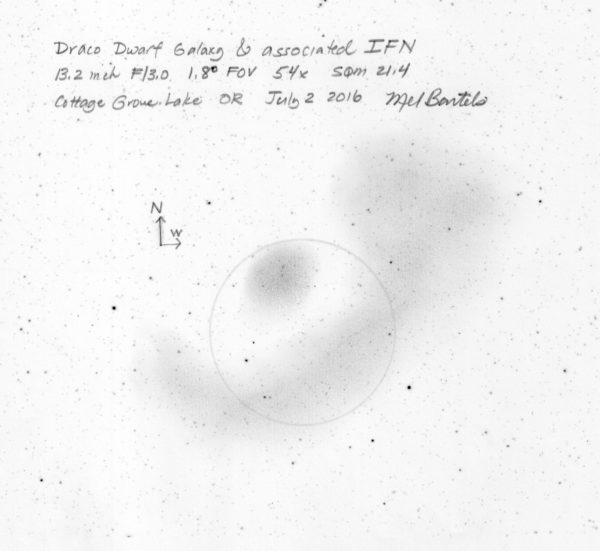 Watch Chang'e 4 and Yutu 2
China has released videos of Chang'e 4 and its Yutu 2 rover exploring the far side of the Moon. Read more about the landing of Chang'e 4 and watch the spacecraft in action.
What Are We Learning from LIGO?
The rising count of gravitational-wave events is giving us a new look at a once-invisible population of black holes.
Galactic Cirrus
See more of Mel Bartel's sketches of the ethereal dust clouds that scatter starlight into your scope, and learn how to use them to find faint objects, such as the Draco Dwarf Galaxy shown at left.
ALSO IN THIS ISSUE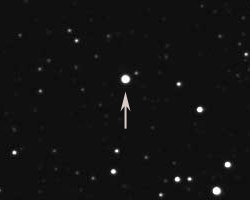 Planets, Bright and Minor
Five bright planets grace the skies from dusk to dawn, and a minor planet comes to opposition.
By Fred Schaaf

An April Asteroid
Try to catch 2 Pallas as it skims through the northern sky this month.
By S. N. Johnson-Roehr

Lamont: The Shadow Knows
Did NASA's GRAIL mission reveal the true identity of a ghostly lunar feature?
By Charles Wood

Small-Scope Galaxies
Turn your optics toward these intriguing "island universes."
By Sue French

Table of Contents
See what else April's issue has to offer.