PURCHASE PRINT ISSUE | PURCHASE DIGITAL ISSUE | DOWNLOAD BACK ISSUES | SUBSCRIBE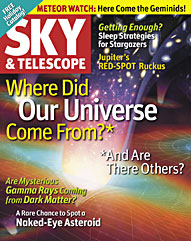 | | |
| --- | --- |
| | TABLE OF CONTENTS |
Spectrum
What's in the Sky Tonight? By Richard Tresch Fienberg
Letters
News Notes
When Galaxies Assembled, SMART 1's Grand Finale, Former "10th Planet" Formally Named, and more . . .
Mission Update
By Jonathan McDowell
75, 50 & 25 Years Ago
By Leif J. Robinson
Spotlight On . . . Stardust in the Large Magellanic Cloud
A new infrared image from NASA's Spitzer Space Telescope highlights the role played by dust in the life cycles of stars. By Richard Tresch Fienberg
Where Did It All Come From?
Cosmologists are closing in on the question of what gave the Big Bang its bang.
By Anthony Aguirre
Messages from the Dark Side?
Have astronomers detected dark matter annihilating itself? By Govert Schilling
Sleep and the Amateur Astronomer
A professional astronomer and a photobiochemist share their tips for staying awake while observing late at night — and for getting restful sleep when your head hits the pillow. By Daniel B.Caton and Joan E. Roberts
read now
Rambling Through the Skies: Raising Hell
Throughout the centuries, Hades has run hot and cold. By E. C. Krupp
Northern Hemisphere's Sky
Whale Watching By Fred Schaaf
Northern Binocular Highlight
Magnificent M31 By Gary Seronik
Southern Binocular Highlight
Perfect Galaxy NGC 300 By Les Dalrymple
Southern Hemisphere's Sky
Galaxy Season By Greg Bryant
Sun, Moon, and Planets
A Challenging Planetary Grouping By Fred Schaaf
read now
Exploring the Moon
Lunar Tectonics By Charles A. Wood
Celestial Calendar
The Geminids: Best Meteors of the Year? By Alan MacRobert
Celestial Calendar
Iris: The Season's Brightest Asteroid By Greg Bryant
Eye on the Sky
Observing on the Edge By Stephen James O'Meara
Deep-Sky Wonders
A Whale of a Tale By Sue French
Observer's Log
Jupiter's Mini Red Spot Survives Encounter By Edwin L. Aguirre
Observer's Log
Chi Cygni's Unusually Bright Maximum By Edwin L. Aguirre
S&T Test Report:
The Bigha StarSeeker
Conceptually simple, an observing chair for binoculars requires a lot of subtle engineering. We test one that makes the grade in more ways than one. By Dennis di Cicco
S&T Test Report:
Mira AL: Powerful Introduction to Image Processing and Analysis
With its attractive price and impressive capabilities, this software is an ideal gateway to professional-quality imaging. By Joe Heafner
New Product Showcase
Super Planetary Telescope, Quality Binoculars, and more . . .
Books & Beyond
Ten Years of Life on Mars, Beyond the Multiverse, and more . . .
The Astronomy Scene
Detwinkling Starlight on Mauna Kea By Richard J. Wainscoat
Star Trails
What is a Planet? By David H. Levy
read now
Amateur Telescope Makers
A Bent Rich-Field Refractor By Robert Ayers
Hobby Q&A
When can we expect the next transit or occultation of one planet by another? Is it better to store a telescope in a climate-controlled house or a garage? and more . . .
Astrophotography
Bicolor Narrowband Astrophotography By Steve Cannistra
Gallery
Index to Advertisers
Focal Point
Stop Renaming the Sky By Mark Allison