PURCHASE PRINT ISSUE | PURCHASE DIGITAL ISSUE | DOWNLOAD BACK ISSUES | SUBSCRIBE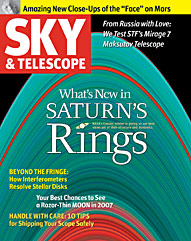 | | |
| --- | --- |
| | TABLE OF CONTENTS |
Spectrum
A Moving Experience By Richard Tresch Fienberg
News Notes
Good Times, Bad Times for Astronomy, Titan: Assembling the Puzzle, and more . . .
Mission Update
By Jonathan McDowell
50 & 25 Years Ago
By Leif J. Robinson
Spotlight On . . . The Face of Mars
High-resolution images from Europe's Mars Express orbiter reveal the truth about this remarkable formation. By Phil Plait
Ringworld Revelations
NASA's Cassini spacecraft is giving us our best views yet of the structure and dynamics of Saturn's rings. By Matthew S. Tiscareno
Resolving the Faces of Stars
Optical interferometry is giving unprecedented views of nearby stars' tiny disks. By David H. Berger, Jason P. Aufdenberg, and Nils H. Turner
Rambling Through the Skies: Preparation for Landing
Lunar reconnoitering was a requirement before the Apollo astronauts attempted to set down. By E. C. Krupp
Northern Hemisphere's Sky
A Sirius Celebration By Fred Schaaf
Northern Binocular Highlight
The Crab Nebula By Gary Seronik
Southern Binocular Highlight
The Pi Puppis Cluster By Les Dalrymple
Southern Hemisphere's Sky
Hopping Around the Hare By Greg Bryant
Sun, Moon, and Planets
Saturn Rules the Evening Sky By Fred Schaaf
Exploring the Moon
Hidden Maria and Dusty Debris By Charles A. Wood
Celestial Calendar
Upcoming Asteroid Occultations By David W. Dunham
Celestial Calendar
Crescent Moons in 2007 By Roger W. Sinnott
Eye on the Sky
The "Black Aurora" By Stephen James O'Meara
Deep-Sky Wonders
Hazy Gleams and Starry Streams By Sue French
S&T Test Report: The STF Mirage 7 Mak
A premium Maksutov-Cassegrain from Russia lands in America. We take it for a test drive. By Sean Walker
New Product Showcase
Beefy Focuser, "Go To" Retrofit, Solar Filters, and more . . .
Books & Beyond
Infrared Astronomy's Long Wait and more . . .
Astronomy Online
Personal Celestial Alerts By Stuart J. Goldman
Star Trails
Old Telescopes Should Never Die By David H. Levy
Amateur Telescope Making
Tips for Shipping Equipment Safely By Dave Bonandrini
Hobby Q&A
Why aren't elliptical craters more common? Can you view meteors hitting the Moon? and more . . .
Focal Point
Set it Up, and They Will Come By John Pijawka