PURCHASE PRINT ISSUE | PURCHASE DIGITAL ISSUE | DOWNLOAD BACK ISSUES | SUBSCRIBE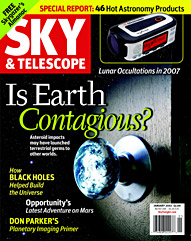 | | |
| --- | --- |
| | TABLE OF CONTENTS |
Spectrum
What Would George & Henri Do? By Richard Tresch Fienberg
News Notes
New Transiting Planet Candidates, Saturn's Ring Takes a Hit, Historic Supernova Linked to Remnant, and more . . .
Mission Update
By Jonathan McDowell
50 & 25 Years Ago
By Leif J. Robinson
Martian Photo Opportunity
The Mars rover Opportunity has reached what may be its final destination: picturesque Victoria Crater. By Selby Cull
Reverse Panspermia: Seeding Life in the Solar System
Earth life may have hitchhiked to other worlds in the solar system inside rocks blasted away in giant impacts. By Selby Cull
How Black Holes Helped Build the Universe
Matter falls into black holes, but it also gets blown away, and that process shapes cosmic evolution. By Christopher Wanjek
The Moon's Far Side: Nearly a New World
Out of sight, out of mind? New types of terrain lurk just around the Moon's edge. By Charles A. Wood
Rambling Through the Skies: Heavenly Reward
Royal celestial honors have rarely lasted beyond the subsubsequent coronation. By E. C. Krupp
Northern Hemisphere's Sky
A Star for Three Seasons By Fred Schaaf
Northern Binocular Highlight
Wonderful Mira By Gary Seronik
Southern Binocular Highlight
Beta Pictoris Plus By Les Dalrymple
Southern Hemisphere's Sky
The River of the Night By Greg Bryant
Sun, Moon, and Planets
Venus and Saturn Adorn the Sky By Fred Schaaf
Exploring the Moon
Concentric Fractures and Craters By Charles A. Wood
Celestial Calendar
Lunar Occultation Highlights for 2007 By David W. Dunham
Celestial Calendar
A Fire on Orion's Club By Alan MacRobert
Eye on the Sky
Something Nu in Andromeda By Stephen James O'Meara
Deep-Sky Wonders
Chasing the Starry Cetus By Sue French
Observer's Log
Measuring the Astronomical Unit from Your Backyard By Robert J. Vanderbei and Ruslan Belikov
Observer's Log
A South American Ring Eclipse By Edwin L. Aguirre
Special Report: Hot New Products for 2007
It's time once again for the editors of Sky & Telescope to round up their annual selection of the most intriguing new products entering the astronomical market. By the Editors of Sky & Telescope
Books & Beyond
Astronomers You Should Know, Walking Tour of Discovery, and more . . .
Astronomy Online
Visit to a Namesake By Stuart J. Goldman
The Astronomy Scene
Robert Evans: Supernova Champ By Edwin J. Aguirre
Star Trails
On the Shoulders of Giants By David H. Levy
Hobby Q&A
What does it mean to say a planet has "cleared the neighborhood around its orbit?" When was the last time a professional astronomer actually looked through an eyepiece to do research? and more . . .
Astrophotography
How to Process Planetary Images By Donald C. Parker
Focal Point
Life on the Main Sequence By Pamela J. Russell