PURCHASE PRINT ISSUE | PURCHASE DIGITAL ISSUE | DOWNLOAD BACK ISSUES | SUBSCRIBE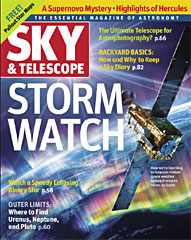 | | |
| --- | --- |
| | TABLE OF CONTENTS |
Spectrum
Pluto on My Mind By Richard Tresch Fienberg
Letters
News Notes
Catching Orion's Bullets, Ancient Volcanic Vents on Mars?, Earth's Temporary Moon, and more ...
Mission Update
By Jonathan McDowell
50 & 25 Years Ago
By Leif J. Robinson
Solar Forecast: Storm Ahead
Our star is prone to powerful outbursts — and solar physicists wish they could predict when the next one will come. By C. Renee James
A Bigger Bang
White-dwarf stars always seemed to blow themselves to bits with the same splashy fireworks. Then Supernova 2003fg broke the rules.
Beyond the Printed Page: Simulating a Type Ia Supernova By David S. Stevenson
read now
Rambling Through the Skies: Altaring Direction
Ceremony and sacrifice inspired cultures to stoke a pyre in the sky. By E. C. Krupp
Northern Hemisphere's Sky
A Constellation Not Like Orion By Fred Schaaf
Northern Binocular Highlight
Draco Doubles By Gary Seronik
Southern Binocular Highlight
The Fly's Globular By Les Dalrymple
Southern Hemisphere's Sky
Changes in Scorpius By Greg Bryant
Sun, Moon, and Planets
Planet Pair Widens in Twilight By Fred Schaaf
read now
Exploring the Moon
Oblique Impacts By Charles A. Wood
Celestial Calendar
Help Track a Fast Eclipsing Binary By Alan MacRobert
Celestial Calendar
Outer Planets in 2007 By Roger W. Sinnott
Deep-Sky Wonders
Heavenly Hero By Sue French
S&T Test Report: Tele Vue's Flagship Imaging System
At the request of astrophographers, Tele Vue modified its line of premium apochromatic refractors, making them more imaging friendly. We test the 127-millimeter (5-inch) f/5.2 model to see if the company achieved its goal. By Dennis di Cicco
S&T Test Report Dioptrx: Prescription for Perfection
Thanks to this nifty little eyepiece accessory from Tele Vue, observers with astigmatism no longer have to wear eyeglasses while looking through a telescope. By Dennis di Cicco
Books & Beyond
Two New Deep-Sky Guides, One-Stop Planetary Shopping, and more ...
Star Trails
New Friends in New Zealand By David H. Levy
Event Calendar
read now
Backyard Basics
Observing Logbooks: How and Why By Paul Markov
Hobby Q&A
Why aren't stars and planets more colorful in my telescope? Many celestial objects are named after people. Who is Stock? and more ...
Gallery
Astrophotos from Our Readers
Index to Advertisers
Focal Point
Waiting for the Big One By Sten Odenwald