PURCHASE PRINT ISSUE | PURCHASE DIGITAL ISSUE | DOWNLOAD BACK ISSUES | SUBSCRIBE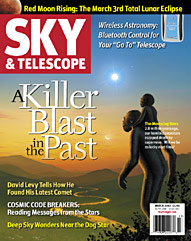 | | |
| --- | --- |
| | TABLE OF CONTENTS |
Spectrum
Lost in Translation By Richard Tresch Fienberg
Letters
News Notes
Flowing Water on Today's Mars? Hubble Confirms a Cosmic Jerk, and more . . .
Mission Update
By Jonathan McDowell
75, 50 & 25 Years Ago
By Leif J. Robinson
The Supernova Menace
A nearby supernova may have lit up Earth's sky — and threatened the planet's inhabitants — 2.8 million years ago. What if the next one's even closer?
Beyond the Printed Page: View a movie of a supernova blast hitting our solar system. By Mark A. Garlick
Cosmic Code Breakers
Some of the hottest research in astronomy takes place behind the scenes, where laboratory scientists decode the messages in celestial spectra. By Daniel Wolf Savin, Benjamin J. McCall, and Kate Kirby
read now
Rambling Through the Skies: Minor League
It's spring training for the top of the order of constellation clones. By E. C. Krupp
Northern Hemisphere's Sky
In Praise of Pollux By Fred Schaaf
Northern Binocular Highlight
NGC 2403 in the Wilderness By Gary Seronik
Southern Binocular Highlight
A Vela Binocular Duo By Les Dalrymple
Southern Hemisphere's Sky
Sirius Blazes Forth By Greg Bryant
Sun, Moon, and Planets
Mercury Leaps Up Down Under By Fred Schaaf
read now
Exploring the Moon
Odd Lunar Domes By Charles A. Wood
Celestial Calendar
March's Eastern Lunar Eclipse By Alan MacRobert
Celestial Calendar
Detecting the Penumbra By Dave Weixelman
Deep-Sky Wonders
Bark with the Overdog By Sue French
Observer's Log
Tiny Planet Crosses Huge Star By Tony Flanders
read now
Targets
A Bundle of Wonders in Puppis By Les Darlymple
S&T Test Report: The Starry Night BlueStar Telescope Adapter
Tired of tripping over wires in the dark when opperating your Go to telescope from a laptop computer? We test a wireless solution that eliminates annoying cables. By Alan Dyer
New Product Showcase
Compact Cameras, Observatories to Go, and more . . . By Compact Cameras, Observatories to Go, and more . . .
Books & Beyond
Astronomy's Knowns and Unknowns, Picturing the Moon, and more . . .
Star Trails
My Yom Kippur Comet By David H. Levy
Event Calendar
Hobby Q&A
What is the farthest star that you can see without optical aid, and more . . .
Gallery
Index to Advertisers
Focal Point
Found in the Phases of the Moon By Brenda Currin