PURCHASE PRINT ISSUE | PURCHASE DIGITAL ISSUE | DOWNLOAD BACK ISSUES | SUBSCRIBE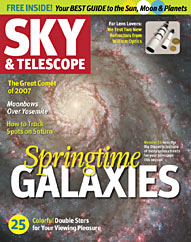 | | |
| --- | --- |
| | TABLE OF CONTENTS |
Spectrum
Around the World with S&T By Richard Tresch Fienberg
Letters
News Notes
Dead Cataclysmics Unearthed, Seeking the Origins of Cosmic Rays, and more ...
Mission Update
By Jonathan McDowell
50 & 25 Years Ago
By Leif J. Robinson
Moonbows over Yosemite
At America's premier national park, investigators figure out how the Moon sometimes produces nighttime rainbows — and sometimes doesn't. By Donald W. Olson, Russell L. Doescher, and the Mitte Honors Students
McNaught's Passing Fancy
How could Comet McNaught, an icy visitor likely no bigger than a mountain, create a stunning tail tens of millions of kilometers long? By J. Kelly Beatty and Greg Bryant
read now
Rambling Through the Skies: Designated Driver
Boosting horsepower earned a transportation innovator a place in the stars. By E. C. Krupp
Northern Hemisphere's Sky
The Long and Short of It By Fred Schaaf
Northern Binocular Highlight
Treasures in Canes Venatici By Gary Seronik
Southern Binocular Highlight
A Gem of a Cluster By Les Dalrymple
Southern Hemisphere's Sky
Our Nearest Stellar Neighbors By Greg Bryant
Sun, Moon, and Planets
Venus at Its Height By Fred Schaaf
read now
Exploring the Moon
Pits of Contention By Charles A. Wood
Celestial Calendar
Porrima's Grand Opening By Alan MacRobert
Celestial Calendar
Tracking Spots on Saturn By Ralf Vandebergh
Deep-Sky Wonders
V is for Virgo By Sue French
read now
Targets
My Favorite Double Stars of Spring By James Mullaney
S&T Test Report: Two New Apos from the Same Tree
Rapidly earning a reputation for quality optics at reasonable prices, Williams Optics adds two new scopes to its refractor lineup. By Alan Dyer and Sean Walker
New Product Showcase
Fast RC Series, Observing Wear, and more ...
Books & Beyond
Images of All Time and more ...
Star Trails
Our Memorable Mercury Transit By David H. Levy
Event Calendar
Hobby Q&A
How far apart are Saturn's ring particles? Does Earth's varying distance from the Sun have any connection to global warming? and more ...
Gallery
Index to Advertisers
Focal Point
Build Bridges Through the Sky By Mike Simmons