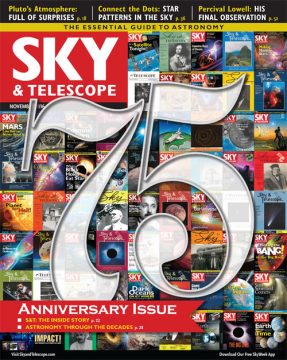 Celebrating 75 Years of Astronomy

To mark 75 years of publication for Sky & Telescope magazine, we've produced an issue that celebrates both the history of the magazine as well as the developments in astronomy it chronicled over the decades. To whit: the newest development to boggle our minds is the continuing unfolding of the mystery that is Pluto. Senior Editor J. Kelly Beatty reveals the surprises inherent in New Horizons' discoveries, and what they're telling us about the dwarf planet's climate and history. Plus, find guides to the pulsing stars in Cepheus, how to see the tints of Uranus and Neptune, and tips for getting the most out of November's meteor showers. Clear skies!
Feature Articles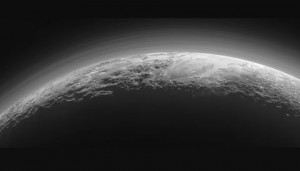 A Brief History of Sky & Telescope
We mark our 75th anniversary with a look back at some of the people, places, and events that helped launch S&T.
By Dennis di Cicco

A Lifetime of Science and Skywatching
Astronomy grew more in the last 75 years than in all prior history. Here's a look at what happened, as reported in the pages of S&T.
By Alan MacRobert

New Horizons II: Pluto's Perplexing Atmosphere
Planetary scientists now realize that most of what they thought they knew about Pluto's climate was wrong.
By J. Kelly Beatty

Small Scope Asterisms
Learn about the stories behind these whimsical star patterns and where to find them.
By Troy Sratton

Pushing the Limit
An intrepid astro-imager goes where no amateur has gone before.
By Sean Walker

Beyond the Printed Page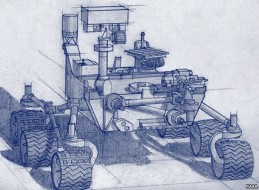 Full 2020 Mars Rover Update
Read the full-length online article on the latest milestone of the Mars 2020 rover.
New All-Sky Meteor Network
Find out more about the innovative FRIPON network will engage professionals and the public in the hunt for space rocks.
Using Sky Charts
Learn how to use a star map at your telescope and find your way to the deep sky.

Lunar Librations
Librations and other lunar data for November 2016.
ALSO IN THIS ISSUE
Evening on the Ecliptic
Venus, Saturn, and mars shine at dusk, Jupiter gleams at dawn.
By Fred Schaaf

Pulsing Stars in Cepheus
Check in on these happening stars, both famous and obscure.
By Alan MacRobert

"Last Contact"
Percival Lowell made his final observation 100 years ago in November.
By William Sheehan

Circling Northern Lacerta
An abundance of deep-sky sights reside in this tiny constellation.
By Sue French

Table of Contents
See what else November's issue has to offer.