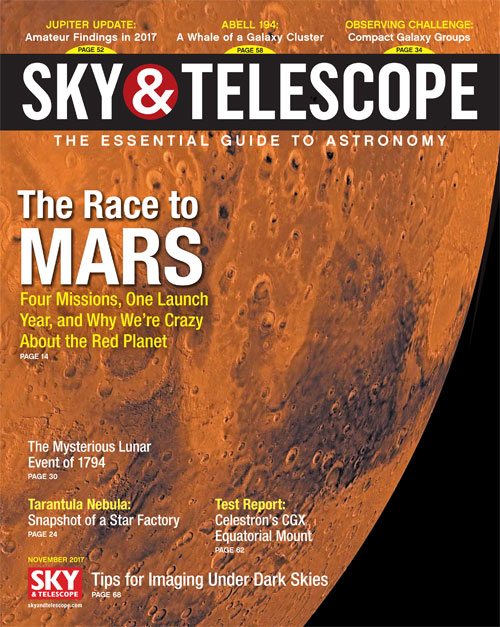 Exploring Our Neighborhood: Racing to Mars, Our Neighbor Tarantula, and a Volcano on the Moon?
Astronomers spend their nights observing objects both near and far. But in astronomy, the sense of neighborhood depends on the object you're observing. Our neighbor, planet Mars, is set to have up to four visiting spacecraft that should launch in 2020. The Tarantula Nebula, a star-making factory in our galactic backyard, allows researchers to study star formation as it occurred long ago. Learn the possible solution to a volcanic mystery on our closest neighbor, the Moon. Learn about the Hickson Compact Groups, a trio of variable stars to observe, and challenging galaxies to find in the Great Square of Pegasus. Enjoy these and other stories in the November 2017 issue of Sky & Telescope.
Feature Articles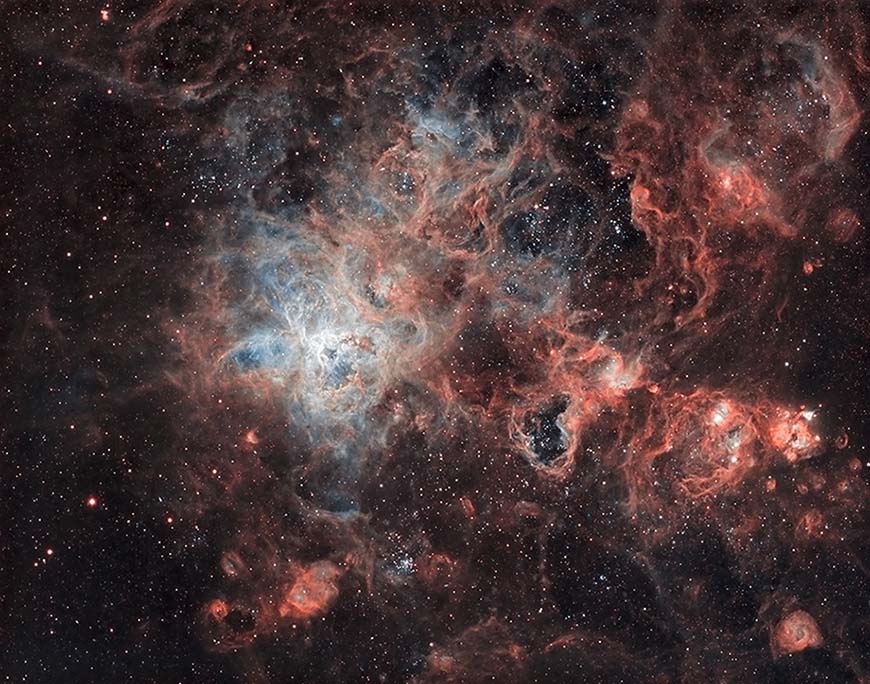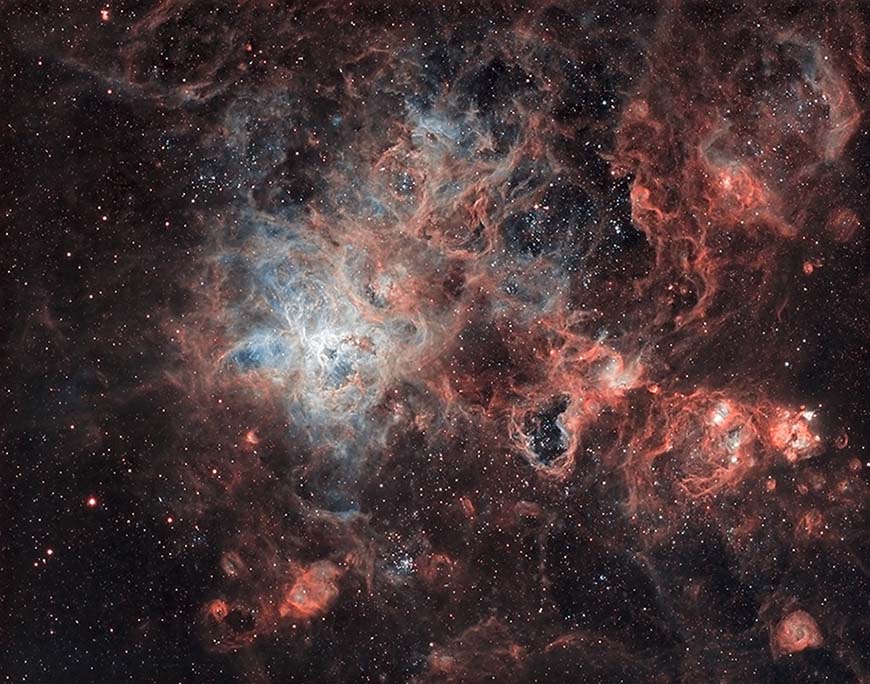 The Race to Mars
Timing is everything in space exploration, and in 2020 the time will be right to launch an armada of explorers to the Red Planet in search of signs of life.
By Benjamin Skuse
Treasures of the Tarantula
Researchers eagerly study a prodigious star-making factory in our galactic backyard.
By Greg Bryant
The 1794 Volcano on the Moon
Sometimes an astronomical mystery seems very easy to solve. Perhaps too easy?
By Andrew Livingston
The Road Less Traveled
These nine compact galaxy groups show that stepping outside your comfort zone can be worth the effort.
By Ted Forte
Bright-Sky Imaging
There are plenty of things to shoot under moonlit and urban skies.
By Ron Brecher

Beyond the Printed Page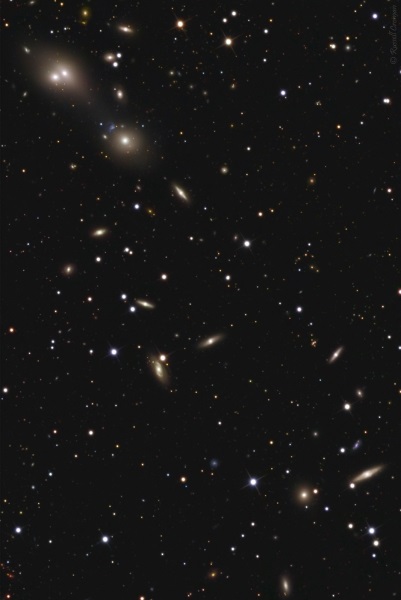 Abell 194
Contributing Editor Ken Hewitt gives us a guided tour of Abell 194 — visit this page for an object table that includes positions, magnitudes, surface brightness, and position angles, available as a convenient PDF download.
Hickson Catalog
Read Hickson's original paper analyzing the 100 compact groups of galaxies now known as the members comprising the Hickson Catalog.
Arp Catalog
In 1966 Halton Arp published his Atlas of Pecular Galaxies. The entire catalog is now available online and as a PDF download.
Lunar Librations and Phases of the Moon
Librations and other lunar data for November 2017.
ALSO IN THIS ISSUE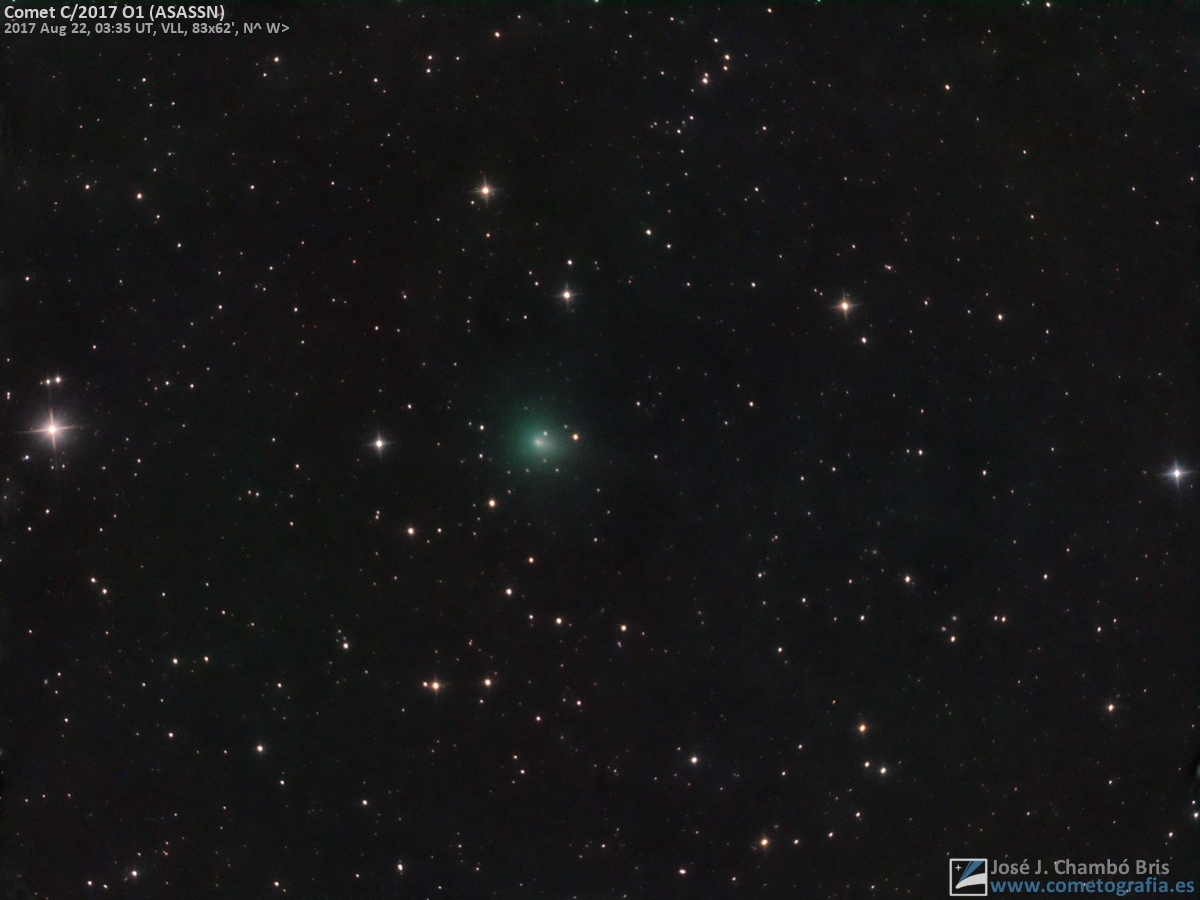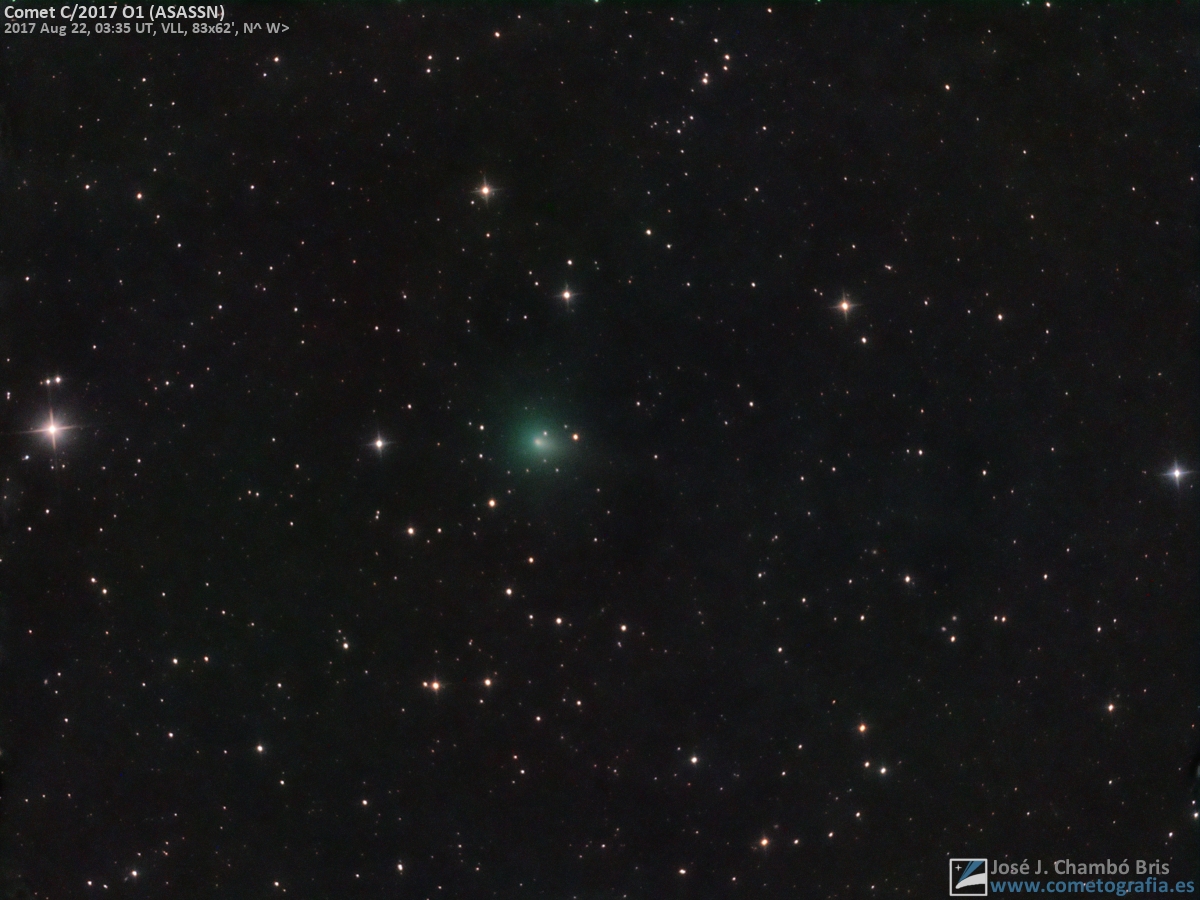 A Thrilling Trio
These three variable stars will hold your attention for nights on end.
By Fred Schaaf

The Poleward Trek of Comet ASASSN1
Heading far north, this telescopic target should be at its best in October and November.
By Alan MacRobert

Jupiter — From Earth to Juno
Amateur astronomers are benefitting from — and adding to — Juno's observations.
By John H. Rogers

Square Galaxies
Spend some time roping this herd of faint fuzzies in the Great Square of Pegasus.
By Sue French

Table of Contents
See what else November's issue has to offer.