PURCHASE PRINT ISSUE | PURCHASE DIGITAL ISSUE | DOWNLOAD BACK ISSUES | SUBSCRIBE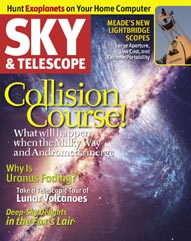 | | |
| --- | --- |
| | TABLE OF CONTENTS |
Spectrum
You Get What You Pay For By Richard Tresch Fienberg
Letters
News Notes
Lakes on Titan!, Amateurs Catch an Asteroid Flyby, New Concept for Imaging Life-Bearing Planets, and more...
Mission Update
By Jonathan McDowell
50 & 25 Years Ago
By Leif J. Robinson
Spotlight On . . . The North America and Pelican Nebulae
An amateur astronomer processes publicly available professional images to create a breathtaking color mosaic. By Sean Walker
The Great Milky Way – Andromeda Collision
The two biggest galaxies in the Local Group — the Milky Way and Andromeda — are on a collision course with each other and with destiny.
Beyond the Printed Page: View simulations of the merger. By John Dubinski
Virtual Planet Sluths
Using a new Web site, anyone with a computer and Internet access can help astronomers better understand extrasolar planets. By Gregory P. Laughlin
read now
Rambling Through the Skies: Moving Mountains
Astronomically significant topography has a place setting in the southern-hemisphere sky. By E. C. Krupp
Northern Hemisphere's Sky
Who Shot Sagitta? By Fred Schaaf
Northern Binocular Highlight
Pretty Capricornus Pairs By Gary Seronik
Southern Binocular Highlight
Planet Number 100 By Les Dalrymple
Southern Hemisphere's Sky
Epsilon Indi Up Close By Greg Bryant
Sun, Moon, and Planets
October Sights Bright and Dim By Fred Schaaf
read now
Exploring the Moon
Weird Lunar Domes By Charles A. Wood
Celestial Calendar
A Bright-Moon Pleiades Occultation By Alan MacRobert
Celestial Calendar
Dark Nights for the Orionid Occultation By Alan MacRobert
Eye on the Sky
I See Nothing! By Stephen James O'Meara
Deep-Sky Wonders
Return of the Little Fox By Sue French
Targets
Observing Uranus and Its Moons By Richard Schmude Jr. and Frank Melillo
S&T Test Report:
Simply Elegant: Meade's LightBridge Dobsonians
This new line of Dobsonian telescopes combines premium features with bargain prices. By Dennis di Cicco
New Product Showcase
Elite Astrographs, Remote Rotator, Imaging Gold, and more...
Books & Beyond
Seeing Double and Stringing Together the Megaverse
Star Trails
My First Meteor By David H. Levy
Event Calendar
read now
Amateur Telescope Making
A Portable Large-Aperture Cassegrain By Michael Lockwood
Hobby Q&A
Does Venus really trace a pentagram in the sky, as claimed in The Da Vinci Code and more...
Gallery
Index to Advertisers
Focal Point
Requiem for an Observatory By William Sheehan