PURCHASE PRINT ISSUE | PURCHASE DIGITAL ISSUE | DOWNLOAD BACK ISSUES | SUBSCRIBE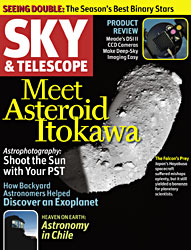 | | |
| --- | --- |
| | TABLE OF CONTENTS |
Spectrum
The Times They Are A-Changin' By Richard Tresch Fienberg
Letters
NewsNotes
Super Earths, Supernova Hieroglyphics?, Triton Kidnap Caper, and more...
Mission Update
By Jonathan McDowell
75, 50 & 25 Years Ago
By Leif J. Robinson
Heaven on Earth: Astronomy from Chile
Chile's astronomy scene is in a state of transition, with first-generation telescopes being mothballed as state-of-the-art facilities reach new heights. By Govert Schilling
The Falcon's Wild Flight
Japan's Hayabusa spacecraft got to its target asteroid last year - but it's having a world of trouble getting back to Earth. By J. Kelly Beatty
read now
Rambling Through the Skies: Lost in Space
The solar system has a lot of misdirected space probes - somewhere. By E. C. Krupp
Northern Hemisphere's Sky
The Summer Sky's Seventh Glow By Fred Schaaf
Northern Binocular Highlight
Double Delight Albireo By Gary Seronik
Southern Binocular Highlight
M55 High in Sagitarrius By Les Dalrymple
Southern Hemisphere's Sky
Springtime Surprises in Pavo By Greg Bryant
Sun, Moon, and Planets
Changing of the Seasons By Fred Schaaf
read now
Exploring the Moon
The Moon's Mystery Rilles By Charles A. Wood
Celestial Calendar
An Atlantic Solar Eclipse By Alan MacRobert
Celestial Calendar
T Ursae Minoris: Star at a Tipping Point By Matthew Templeton
Eye on the Sky
Mechain's Unsung Discovery By Stephen James O'Meara
Deep-Sky Wonders
Foxfire Nights By Sue French
Targets
More of My Favorite Double Stars By James Mullaney
S&T Test Report: Good Gets Better: Meade's DSI II CCD Cameras
The low-cost CCD cameras that opened the world of deep-sky imaging to many amateurs have been improved, making them more irresistable than before. By Johnny Horne
New Product Showcase
Premium Barlows, Big Coma Corrector, Astrophotography Adapters, and more...
Books & Beyond
Photoshop for Astrophotographers By Sean Walker
Astronomy Online
Club Critiques By Stuart J. Goldman
The Astronomy Scene
Amateurs Help Discover a Transiting Exoplanet By Robert Naeye
Event Calendar
Star Trails
Moonlight Sonata By David H. Levy
Hobby Q&A
Wher on the Moon did Gruithuisen see a city? and more...
read now
Astrophotography
Capture the Sun with Your PST By Sean Walker
Gallery
Index to Advertisers
Focal Point
Stars of the Show By Jane A. Green