PURCHASE PRINT ISSUE | PURCHASE DIGITAL ISSUE | DOWNLOAD BACK ISSUES | SUBSCRIBE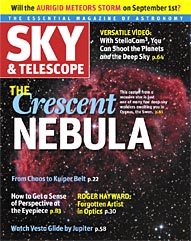 | | |
| --- | --- |
| | TABLE OF CONTENTS |
Spectrum
Full-Moon Fever By Richard Tresch Fienberg
News Notes
It's Official: Eris Outweighs Pluto, Comet McNaught's Iron Tail, and more ...
Mission Update
By Jonathan McDowell
75, 50 & 25 Years Ago
By Leif J. Robinson
From Chaos to the Kuiper Belt
Billions of icy bodies beyond Neptune remind us that the early solar system was a frenzy of planet-building activity.By Mark Littmann
Beyond the Printed Page: Chaos in the Early Solar System
Roger Hayward: Forgotten Artist of Optics
Letters hidden in a box for decades reveal that this obscure architect and commercial artist was also one of the 20th century's most gifted optical designers. By Trudy E. Bell
Rambling Through the Skies: Green Cheese
Did some people really believe that the Moon was part of the food pyramid? By E. C. Krupp
Northern Hemisphere's Sky
Flights of Fancy By Fred Schaaf
Northern Binocular Highlight
Wild Duck Chase By Gary Seronik
Southern Binocular Highlight
Pretty Globular NGC 6541 By Les Dalrymple
Southern Hemisphere's Sky
Toward the South Celestial Pole By Greg Bryant
Sun, Moon, and Planets
Evening Star, Morning Star By Fred Schaaf
Exploring the Moon
Tempting Tranquillity By Charles A. Wood
Celestial Calendar
Earth to Hit Aurigid Meteors? By Joe Rao
Celestial Calendar
Chi Cygni Rises Again; Vesta Kisses Jupiter By Alan MacRobert
Deep-Sky Wonders
The Graceful Swan By Sue French
S&T Test Report: Next-Generation Video: Adirondack's StellaCam3
Leave your computer at home! This new camera instantly displays video images on any television monitor of everything from the Moon and planets to deep-sky objects. By Johnny Horne
New Product Showcase
The New "Q," Modular Oculars, Planet Imager, and more ...
Books & Beyond
Our Sky Romance, Arped and Ready, and more ...
Star Trails
A Second Look at Norman Davidson's Imagination By David H. Levy
Backyard Basics
Cosmic Perspectives By Phillip Kane
Beyond the Printed Page: More Useful Tables
Hobby Q&A
How can I see features on Venus in my telescope? Does the presence of the jet stream above my observing site cause good or bad seeing? and more ...
Gallery
Astrophotos from Our Readers
Focal Point
Maintaining Relevance By Thomas T. Watson