SUBSCRIBE TODAY | ISSUE INDEX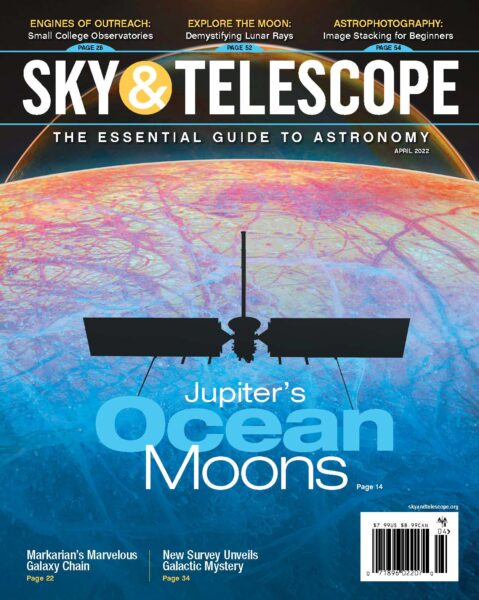 Ocean Underworlds, Markarian's Chain, and College Observatories
In the April 2022 issue of Sky & Telescope, we're headed into the subsurface of Jupiter's icy moons to seek out the hidden oceans that might reside there and any potential signs of life they may hold in their depths. Then, we're headed back to college to visit the observatory. College observatories occupy a special place in many astronomers' hearts, so we're discussing their history and how much they mean to the community. Plus, a new survey of dwarf galaxies shows that the Milky Way's satellites may not be as average as astronomers thought. Finally, never again worry about how baggage carriers might be treating your fragile scope with this ultra-portable version: Jerry Oltion recounts how he built a Dobsonian that folds down small enough to fit under an airplane seat.
FEATURE ARTICLES:
Two missions launching soon will take a close look at some of our best bets for finding alien life in the solar system: Jupiter's icy moons.
By Benjamin Skuse
Step into the Virgo Cluster to observe this amazing line-up of galaxies.
By Howard Banich
The Past, Present, and Future of College Observatories
Even in an era of big science and big budgets, small facilities still have an important role to play.
By Chris De Pree and Sarah Scoles
A new survey hints that the Milky Way might be an outlier — with broad implications for our understanding of the universe.
By Shannon Hall
Building an Ultra-Portable Dobsonian
Here's a lightweight reflector that fits in your carry-on luggage.
By Jerry Oltion
Beyond the Printed Page:
Read the NASA Office of Inspector General's audit of the International Space Station and what comes after the ISS retires.
Check out College Rank's list of the 35 best college observatories.
See detailed information about this partial solar eclipse at Xavier Jubier's interactive eclipse page.
Learn all about building one of these iconic scopes in The Dobsonian Telescope, A Practical Manual for Building Large Aperture Telescopes by David Kriege and Richard Berry.
ALSO IN THIS ISSUE:
A famous signpost guides you to stellar delights.
By Fred Schaaf
Three small-scope minor planets highlight the month.
By Bob King
Crater Rays — Mysterious No More
Understanding these bright features can add further enjoyment to your lunar observing
By Charles A. Wood
This basic technique is one of the most powerful tools for noise-free astrophotos
By Richard S. Wright, Jr.
Table of Contents
See what else April's issue has to offer.