SUBSCRIBE TODAY | ISSUE INDEX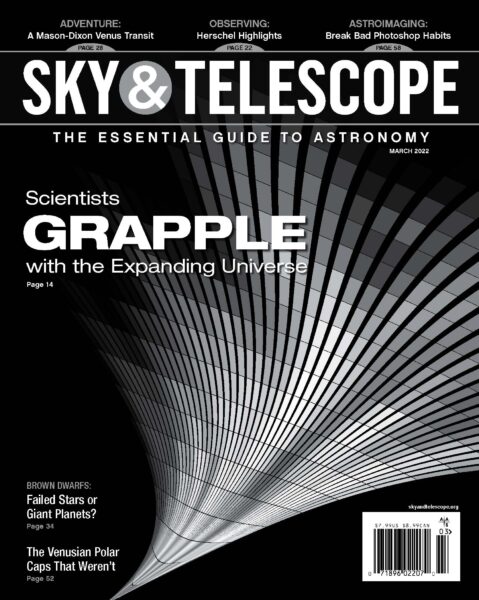 The Hubble Tension, Bad Photoshop Habits, and Failed Stars
In the March 2022 issue of Sky & Telescope, scientists examine a conundrum: Two ways of measuring the expansion rate of the universe continue to yield different results, and additional data and more precise measurements have only heightened the discrepancy. Could both results be correct? And as astronomers discover more giant exoplanets and brown dwarfs with the same masses, they may need to take another look at how we differentiate between these objects. Plus, we've scoped out the cream of the crop from the 74 objects that William and Caroline Herschel discovered on the night of April 11, 1785. (If you're up for a challenge, there's a link below to the full list of objects in the Herschel Hustle.) Finally, most will recognize Charles Mason and Jeremiah Dixon from the boundary line that bears their name, but learn how they got their start — by observing the 1761 transit of Venus.
FEATURE ARTICLES:
The Hubble Constant: Tension and Release
The difference between measurements of the current cosmic expansion rate is a growing crisis in cosmology. What could alleviate the tension?
By Arwen Rimmer
William and Caroline Herschel's Big Night
Follow in the footsteps of the duo's most productive night: April 11, 1785.
By Ted Forte
Mason and Dixon's Great Venus Adventure
A pair of well-known surveyors got their start trying to solve one of the biggest questions in astronomy.
By Ted Rafferty
Discoveries of brown dwarfs and exoplanets are complicating our definitions of which is which.
By Caroline Morley
Getting the best results from this popular software might mean unlearning how to use it.
By Alan Dyer
Beyond the Printed Page:
Read about NASA's Juno spacecraft's latest measurement of Jupiter's Great Red Spot. Just how deep is it?
Complete this observing challenge inspired by William Herschel and submit your log to the Astronomical League to earn an award.
Help astronomers hunt for signs of these enigmatic events in actively collected data from the Canadian Hydrogen Intensity Mapping Experiment.
See an animation of the transit of Venus that Charles Mason and Jeremiah Dixon witnessed from Cape Town in 1761.
ALSO IN THIS ISSUE:
Three foes of Hercules bunch in the evening sky.
By Fred Schaaf
March offers a golden opportunity for a daylight sighting of the night sky's brightest star.
By Bob King
Venusian Cusps, Caps, and Collars
Features near the poles of the hottest planet were once mistaken for polar caps.
By Thomas A. Dobbins
A tiny celestial treasure lies nestled in one of the arms of the Gemini twins.
By Ken Hewitt-White
Table of Contents
See what else March's issue has to offer.