SUBSCRIBE TODAY | ISSUE INDEX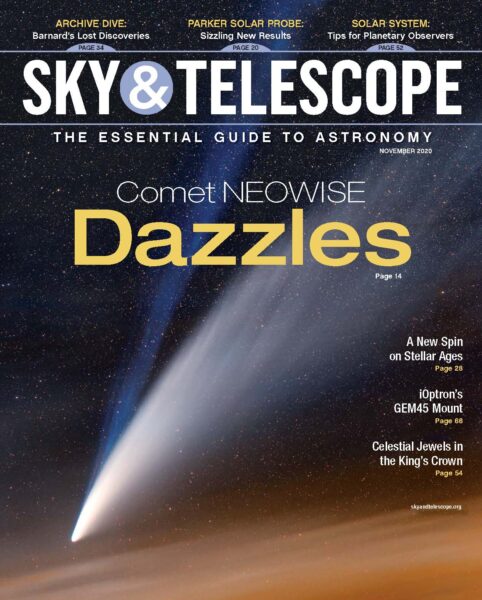 Comet NEOWISE, E. E. Barnard, and the Parker Solar Probe
In the November 2020 issue of Sky & Telescope, we're giving Comet NEOWISE one last hurrah with some of our favorite images from our readers. From comet success to comet mystery, we also cover the story of Comet Biela. Though it wasn't as bright as Comet Neowise, Biela's comet caused some out-of-this-world meteor showers in the 1800s. They dwindled over time but didn't dissipate. So we're wondering: What really happened to Comet Biela? If you're up for another mystery, we've figured out how to measure stars' ages by how fast they rotate — but older stars don't rotate as slowly as expected. Astronomers are still pondering, why not? While we parse these questions, NASA's Parker Solar Probe is catching the closest views ever of our own star, and we cover its first science results. Finally, S&T Contributing Editor Steve Gottlieb has combed through the logbooks of E. E. Barnard, sharing with us deep-sky discoveries that have been hidden for more than 130 years.
FEATURE ARTICLES:
Comet C/2020 F3 puts an end to the long drought of bright comets.
By Sean Walker
NASA's Parker Solar Probe is on a record-breaking journey to study our nearest star.
By Monica Young
Measurements of stellar rotation give astronomers insight into star' ages. But they've also unearthed a mystery.
By Jennifer van Saders
The Lost Discoveries of E. E. Barnard
The famed American astronomer was an avid observer yet didn't publish many of his findings ­­— now, his unreported discoveries are coming to light.
By Steve Gottlieb
The Strange Case of Comet Biela
It vanished, then returned, then vanished again, only to possibly return anew. What gives?
By David Nakamoto
Beyond the Printed Page:
Read about the Andromedid meteor shower and when scientists predict we'll see it again.
See the first images from the European Space Agency's Sun-imaging spacecraft.
Mackinac Bridge and Comet NEOWISE
Learn how this stunning image was taken.
Lick Observatory Historical Collections
View high-resolution photographs and scans of Lick Observatory's historical archives.
ALSO IN THIS ISSUE:
Come get your share of the November night sky.
By Fred Schaaf
A Fourth Penumbral Lunar Eclipse
This month the Moon slips through Earth's faint outer shadow for the final time this year.
By Bob King
Innovative use of accessories can enhance your observing experience.
By Thomas Dobbins
Cepheus contains one of the sky's most noteworthy nebulae.
By Sue French
Table of Contents
See what else November's issue has to offer.