Observing Editor JR Johnson-Roehr recently joined a group of astro-tourists in Iceland for the 2016 Sky & Telescope Northern Lights tour.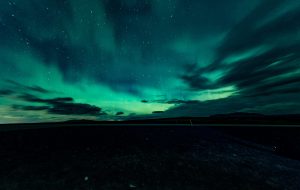 On Sunday, October 2nd, a group of about 35 sleepy tourists gathered for breakfast in the waterfront village of Sandgerði, Iceland. We were all there for the Sky & Telescope Northern Lights tour, freshly arrived in Iceland and eager (if drowsy) to get out and experience a bit of North Atlantic life. Our week-long adventure, conducted in partnership with Spears Travel, was planned with one goal in mind: maximizing our chances to see the northern lights. Just three nights before our arrival, the citizens of Reykjavík had witnessed a stunningly strong display of the aurora borealis. Would we be as lucky?
Looking up at the clouds while we explored Reykjanes Peninsula that first day, I had my doubts. And indeed, our first night in Reykjavík came with drenching rains. Even so, spirits were high the next day as we set off for a city tour and visit to Árbæjarsafn, an outdoor folk museum. The clouds continued to hover, though, and as I gave my talk on the science of northern lights at the Reykjavík Art Museum in Hafnarhúsið that evening, I hoped my fellow travelers were dialing back their expectations.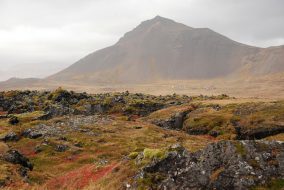 Luckily, our guide, Elín Konrádsdóttir of Iceland Travel, never dials it back and never gives up. Immediately after our visit to the art museum, Tom Reynolds of Spears Travel shepherded us onto our waiting coach. Elín rode shotgun, directing us out of the city and toward Þingvellir National Park. The the larger northern lights tours that run out of Reykjavík had cancelled their outings due to the unfavorable weather forecast —  little chance of seeing the aurora borealis through all these clouds! But no sooner had we pulled into the first lot at the park when someone behind me announced the unbelievable: "I see them! I see them!"
Yes, it was windy, and yes, it was cold, but I doubt one person in our group regretted the time spent standing on the lee side of the bus as the northern lights play peek-a-boo with the clouds above our heads. The sky was dynamic. Clouds intensified then scattered, surprising us with sudden views of auroral displays. Thanks to Elín's deep knowledge of — and deep faith in — local weather patterns, we were able to enjoy a brilliant, peaceful evening under the skies.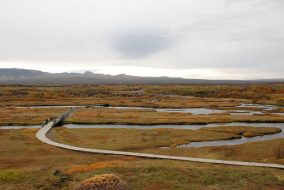 So, we started our week satisfied, though still eager to see more northern lights and more of Iceland. Elín and Tom were the perfect escorts as we explored Snæfellsnes Peninsula, Þingvellir National Park, and the sea cliffs of Vík. On Snæfellsnes, the village of Búðir and the surrounding lava fields were a particular favorite of mine, though the warmth and friendliness that came with the coffee served to us in Arnarstapi were certainly competitive. Þingvellir, where Iceland's National Parliament first convened in 930 AD, is an important cultural site for Icelanders. Nestled in the rift valley between the North American and Eurasian tectonic plates, it's also a good reminder of long arc of history —  standing at the rim, it was easy to sense that we're just a flash the pan in terms of the planet's geological development.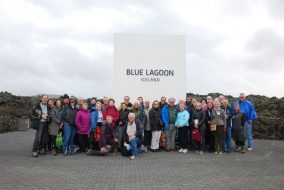 Elín worked hard every night, scouring weather reports and checking aurora forecasts. Alas, even her dedication couldn't convince the northern lights to cooperate just one more time. But even with this disappointment, I feel confident saying that the 4th annual S&T Iceland tour was a success. We visited waterfalls — Gullfoss, Seljalandsfoss, and Skógarfoss. We touched the cold North Atlantic seawater at Grindavík, Búðir, and the Reynisfjara shore. We toured the land of glaciers and Saga-steads, imagining a sky thick with volcanic ash while Elín spun tales — historical and contemporary — for us. We donned our swimming togs and took a dip in the warm, warm waters of the famous Blue Lagoon. We skywatched and stargazed. We enjoyed every restaurant and every meal, and I came home with a recipe for Icelandic Happy Marriage Cake. Elín, Tom, and Gary Spears of Spears Travel put together a fantastic itinerary and ran a well-organized tour. Every hotel was comfortable and warm, every tour stop welcoming. And without exception, my travel companions were good company and good sports.
Interested in joining us on a future trip? We've already scheduled an astronomy and stargazing tour in Chile in March 2017.