Ten thousand stars bedazzle the eye on a dark night. Wait, how many stars in the sky?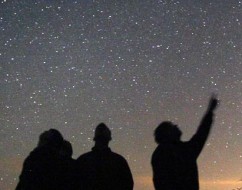 Go out on a dark night and you'd swear there are thousands of stars in the sky. Too many to count. 10,000 at least. But why guess when someone has already done the counting for you? Astronomer Dorrit Hoffleit of Yale University, well known for her work with variable stars, compiled the Yale Bright Star Catalog decades ago. It tabulates every star visible from Earth to magnitude 6.5, the naked eye limit for most of humanity.
You might be in for a surprise when you read it, though. To answer the question, "How many stars in the sky?" The total comes to 9,096 stars visible across the entire sky. Both hemispheres. Since we can only see half the celestial sphere at any moment, we necessarily divide that number by two to arrive at 4,548 stars (give or take depending on the season). And that's from the darkest sky you can imagine. I don't know about you, but that number seems paltry to one's impression of an inky night in the backcountry.
At the poles, where the north and south polestars are pinned to the zenith and no stars rise or set, the same ~4,500 stars are visible every single clear night of the year. At northern mid-latitudes, the pole star is halfway up in the northern sky, allowing us to peer deeper into the southern realms of the celestial sphere. During the course of a year from latitude 45° north, we see roughly half again as many stars as we do at a particular time on a given evening. That tallies up to approximately 6,800 stars. Still pretty lean, but apparently enough to convey the impression of an intensely starry sky.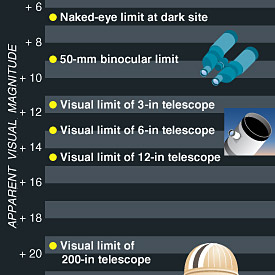 Astronomers use the magnitude scale to measure star and planet brightness. Each magnitude is 2.5 times brighter than the one below it. Altair, in Aquila the Eagle, shines at about magnitude +1 which is 2.5 times brighter than a 2nd magnitude star, which is 2.5 times brighter than a 3rd magnitude star, and so on.
A first magnitude star is 2.5 x 2.5 x 2.5 x 2.5 x 2.5 (about 100) times brighter than a 6th magnitude star.
The bigger the magnitude number, the fainter the star. If an object is really bright, it's assigned a negative magnitude. Sirius, the brightest star sparkles at magnitude –1.4, Jupiter at –2.5, and Venus tops the planets at –4.4. The Full Moon reaches a magnificent –12.7, bested only by the Sun at –26.7.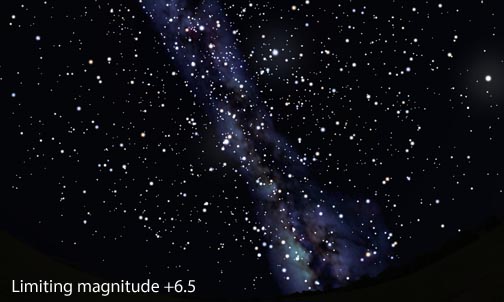 While the total number of naked eye stars may seem unimpressive, consider what happens to the sky in and around cities, where most of us live. From the suburbs, the magnitude limit is around +4 for a worldwide total of about 900 stars or half that for your location. If we set the city limit at magnitude +2 (stars similar to the Big Dipper in brightness) we're left with just 70 stars worldwide, or 35 stars visible from say, downtown Chicago or Boston.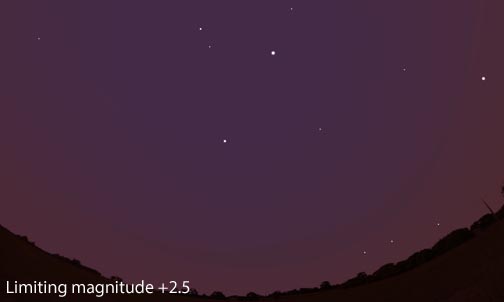 No wonder city dwellers are stunned by the night sky when they take their first trip to the country. Stars barely exist for those trapped beneath an ever-present dome of light pollution.
Numbers increase exponentially if we go in the opposite direction as there are far more faint stars than bright. The standard limit for a pair of 50-mm binoculars is 9th magnitude, opening up a vista of some 217,000 stars across the heavens. Impressed? A 3-inch telescope pulls in a treasure-worthy 5.3 million, enough for several lifetimes of viewing pleasure. Dare I go further?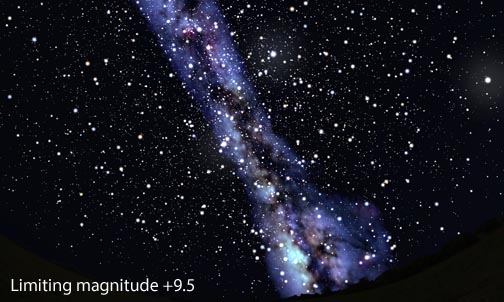 On the very best nights, I can reach 16th magnitude with my 15-inch telescope, or 380 million stars. Well, only half that really, but who's counting?
How many stars in the sky can you see with binoculars? Use Gary Seronik's Binocular Highlights to help you find out!