Does increasing the ISO on your DSLR make it more sensitive? No! Yes! Depends!

Let's start with what ISO is and means. It's not an acronym and is pronounced eye – sew, not eye – es - oh. If I had a dollar for every time I've been told that ISO stands for International Standards Organization, I could buy a really nice lens. Not only is this not true, but there's actually no such thing as the International Standards Organization.
Go ahead, I'll wait here while you Google that.
Okay, maybe I'm splitting hairs because there is actually something called the International Organization for Standardization, and maybe they just rearranged the letters – right? Nope, not even. An international organization would probably avoid using English-lettered acronyms, don't you think?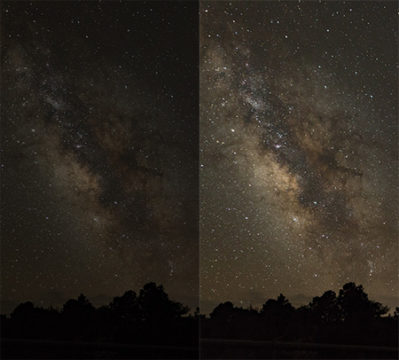 Instead, ISO is short for the Greek word isos, which means equal (see the bottom of this page for more on this). This term is incredibly useful in photography. Not that long ago, film was the medium of photography, and ISO 200 film was twice as sensitive to light as an ISO 100 film. ISO 400 was twice as sensitive again, etc. These sensitivity standards allowed you to know that for X amount of light, and a focal ratio of f/x and such-and-such shutter speed, ISO 800 would give you a good exposure. This worked no matter whose camera or lenses  (or brand of film) you used, and it made photography comprehensible, repeatable, and predictable. For a dimmer scene, all other things being equal, you could increase the sensitivity of your camera by, for example, using ISO 1600 film. ISO films really were truly, chemically more or less sensitive to light exposure.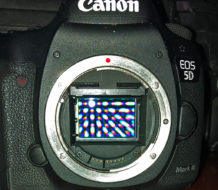 Enter the era of digital cameras. Now you have an electronic sensor that receives light, turns photons into electrons (a little bit of an over simplification), and then reads out an image digitally. Digital sensors have a certain Quantum Efficiency (QE), which is a measure of its ability to convert light to electronic signals. A QE of 50% for example, would convert half the light falling on it to an electronic signal.
Let's say you have a given image sensor that's as sensitive to light as ISO 800 film, and you build a camera around that sensor. Imagine now that you want to sell that camera to the photographers of the world. There is a lot of photographic freedom associated with varying ISO's, so selling an ISO 800-only camera would be a quick route to bankruptcy.
Instead, digital cameras mimic traditional cameras by allowing you to set your own ISO. To make the camera appear more sensitive, the camera would amplify the signal from the chip, and to make the camera less sensitive, it would dampen (darken) the image from the chip. The camera would do both actions in a standardized way, matching the ISO ratings of film. This is nothing more than sensor gain, which CCD imagers knew about well before the CMOS revolution.
Correlating gain to ISO is far from an anachronism, because now, everything you know about photography stays the same. As a bonus, you can adjust ISO on the fly without changing film to get the exposure you want. Plus, you don't have the added expense of buying and developing different types of film. Not hard to see how digital photography was able to replace film as the mainstream tool of choice so quickly.
In a sense, a digital camera has an inherent fixed sensitivity to light. Upping the ISO does nothing but brighten the image in the camera before saving it to your memory card. You'd think you could accomplish the same thing with Adobe Photoshop's levels and curves and it wouldn't be any different . . .  except that it is!
A couple of months back, we talked about noise. Less noise makes your camera more sensitive in the sense that fainter signals become detectable. One of the sources of noise is readout noise, which is the uncertainty that pollutes your image as it's read out electronically from the camera. The faintest signal in a single exposure is limited by the noise in your image, and a significant source of that noise in very low light situations can be the electronic read noise. (In most sensors, there is also a very faint dark fixed-pattern noise that shows up in low-light images too.)
What happens if you read out the image, signal and noise together, and then "brighten it" with Photoshop? Well, you increase everything, both the image you want, and all the noise too. Brightening an image in Photoshop is NOT the same as increasing sensitivity.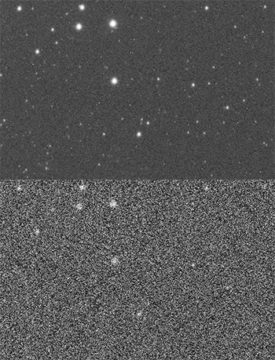 However, what happens if you amplify the signal on-chip, before the read-out noise can be added? Now, your faintest signal can be boosted above the noise floor where the read noise is hiding. Fainter signal and details now are brighter than the background noise . . .  you've technically made the camera more sensitive!
Which of these two methods does a DSLR use when increasing ISO? Well, both.
Each DSLR model, based on the image sensor it uses, will have a sensitivity equivalent to some intrinsic ISO. ISO settings slower than this will be scaled down (which also reduces the noise contribution). Images shot at a higher ISO will be scaled up on the chip, boosting the signal before the read noise gets added in, and thus giving us an effective increase in sensitivity to faint signal. However, most DSLR's can only use so much on-chip gain; they'll then further boost the signal after the readout. At this point, you are no longer getting any effective sensitivity gain, you're just amplifying the signal and the noise together. (Super-high ISO's also reduce your dynamic range, but describing why will take a whole other blog post!)
For now, my advice is start astro-imaging with your DSLR at ISO 1600 and experiment. Shoot the same scene at various ISOs and compare the results. On a newer DSLR model, you might be surprised with what you get.