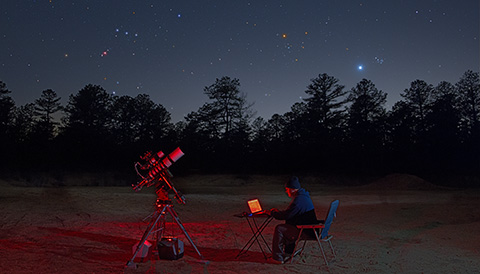 Thinking about going out for night of astroimaging?  Remember the five P's – Proper Planning Prevents Poor Performance. A little planning before you go out can maximize your productivity during your night under the stars.
Start thinking about your targets a couple of days ahead of time. Open your favorite planetarium program and set the time for when you'll be out shooting. Most programs will give you lots of useful information such as sunset and sunrise, when the Moon will be up, and the time of astronomical twilight — when the sky is at its darkest.
Window of Opportunity
While there are lots of objects, such as star clusters and planets, that you can shoot when the Moon is up, you generally don't want to shoot faint deep-sky objects with Luna in the sky, unless you're shooting through narrowband filters. Newcomers to the hobby often see a weather forecast for clear skies on a weekend and start panning a long drive to a dark-sky location for a couple of nights of serious deep-sky work, but they forget that it might also happen to be a full Moon weekend!
Once you know your window of opportunity, you can research which objects will be best placed for your location. It may seem obvious to some, but you can't shoot M42 in the Northern Hemisphere in the summer! And, just because an object is technically above the horizon doesn't mean it's best placed for photography. The best time to shoot a deep-sky object is when it's near the meridian, the imaginary line that runs north-to-south through the zenith. That's when the object's light travels through the least amount of Earth's atmosphere, so it appears the brightest through your telescope.
So advance your planetarium program to the time you plan to shoot then see which constellations and deep-sky objects are near the meridian. Make a list of possible targets. Pick out one or two — don't try to shoot a dozen objects in one night.  The single thing that will most improve your images is total exposure time. If you shoot 10 objects, each with 10 minutes of exposure, you will probably end up with 10 mediocre images. If you shoot one object and stack 10 frames, each with 10 minutes of exposure for a total of 100 minutes on one object, you'll probably end up with one really good image.
Framing and Focal Length
Once you've decided which objects to shoot, you'll need to consider framing, as well as focal length. You may only have one telescope, but accessories such as a focal reducer or tele-extender (which increases your telescope's focal length)  can give you a variety of focal lengths to choose from. An object that's large on the sky — like M31, the Andromeda Galaxy — simply isn't going to fit into the field of view of a C11 SCT working at prime focus at 2,800 mm!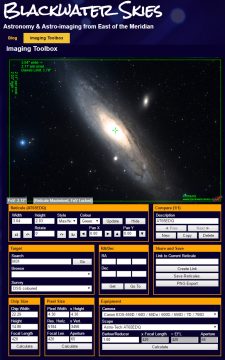 One great tool I use to plan my astrophotography is Blackwater Skies Imaging Toolbox, an extremely useful online tool created by Ian Lauwerys. You can input your telescope or camera lens focal length and camera type and it will immediately calculate the field of view. You can then search for an object from the program's extensive list of catalogs, and it will pull down a digital sky survey (DSS) image and show you the exact framing you will get with your equipment.
After you have the object framed, you can download the image from the Blackwater Skies Imaging Toolbox and save it to your laptop for reference. At the scope, shoot a test image to check your framing by comparing it to the reference image. If it's off, just jog the scope with its controller and take another test image. Repeat until you're satisfied with your framing.
Field of View
If you have mastered the art of plate solving (using a computer program to determine precisely where your telescope is pointing by matching stars in a photo), you can solve the DSS image in advance and save the solution as a bookmark in a program like AstroTortilla, and then simply let it match the pointing of the subject with a series of automatic iterative solves and moves.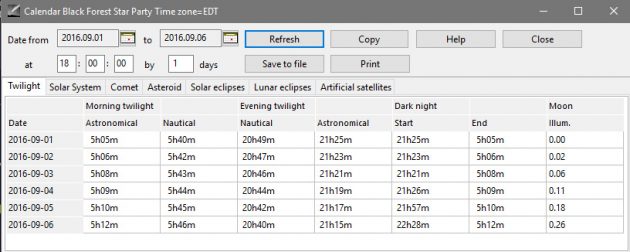 If you don't have a bunch of sophisticated equipment, you'll probably just use an intervalometer at the telescope, with no computer. So during your planning session, print out a copy from your planetarium program that shows the field of view of the object you intend to shoot.  Most programs will add an overlay to a star field that shows the exact field of view of your camera if you input the scope's focal length and size of your camera sensor. Then take a test shot and compare it to your chart printout.
You don't want to be wasting precious time under the stars trying to remember what objects are up and if they will frame well in your scope. Do that planning ahead of time. Clear dark sky time should be spent collecting those precious photons!