A new year — and a clear sky — offers a chance to reconnect with a passion for stargazing.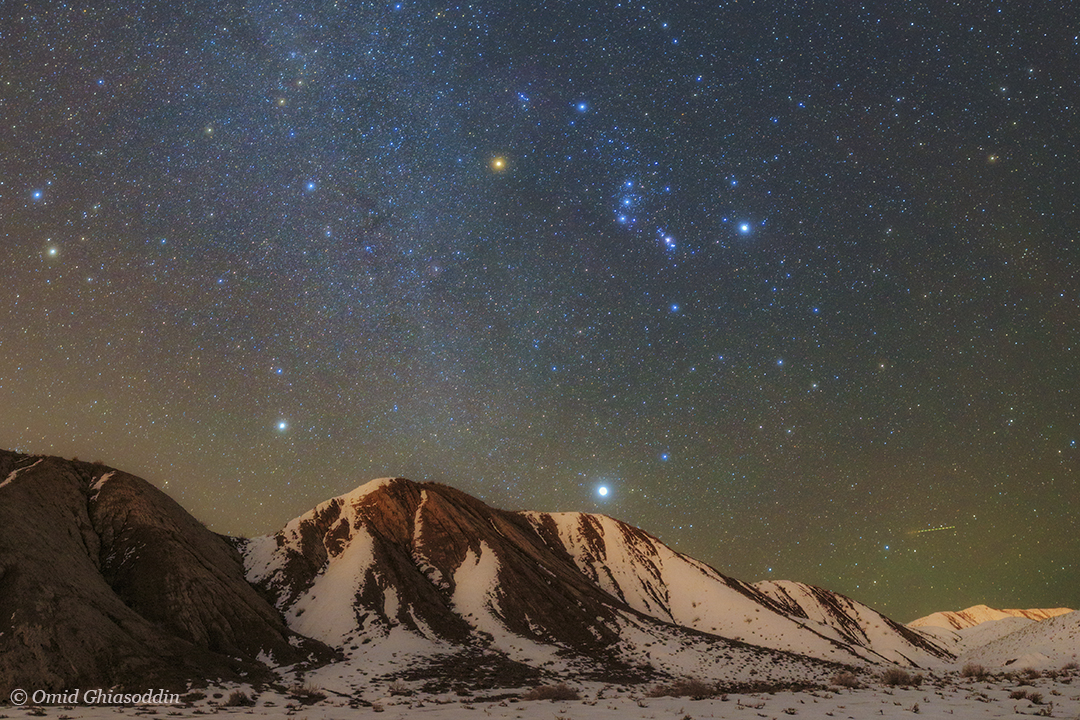 It was New Year's Eve Eve — New Year's Eve Squared? — and a friend sent an email to our writers' group about greeting the coming year with deliberate passion and cheer. There was a reply chain about setting aside difficulties in order to appreciate the bigger picture, like celebrating that you're on a hike in an old-growth forest instead of lamenting the cold rain.
In short, we wanted to prioritize enthusiasm, re-centering our experiences to focus on the positive despite the humdrum, and to appreciate the awesomeness of each moment so that nothing becomes "old hat." It's a worthy theme for a new year.
Later that night, I was reminded of what makes me enthusiastic without effort or reframing: I love winter stargazing, beyond measure.
I'd been sitting in bed, starting a new chapter of Katherine May's Wintering, when I heard a couple of odd bangs outside. Had the catalytic converter thieves finally come for my ancient vehicle? I stuck my head outside and exclaimed, "Are you kidding me?!"
Because Orion towered overhead, crisp and clear against a velvet black sky, after weeks of a near-constant overcast soup of rain, snow, and ice. The Clear Sky Chart hadn't hinted at this reprieve, but a wide stretch from Sirius to the Pleiades and beyond was open and calling.
Also, there were no catalytic converter pirates in sight.
I was already exhausted and not feeling great. Rather than expending my remaining energy on carrying equipment outside to set up in the snow, I pulled on some thick socks beneath my pajamas, slipped into my winter coat, and grabbed my favorite pair of binoculars.
The view was tremendous, one I had been missing too long. I stood on the porch and tilted my binoculars upward. I gasped when I scanned Orion and picked out the Orion Nebula, with some help from my imagination. My breath caught as I moved across the Hyades; somehow I always forget how magnificent and dense that cluster is. When I landed on the Pleiades, I exclaimed, "Oh, hey!" and laughed like a giddy child. The stars were as bright and sharp as scattered diamonds.
My physical energy flagged, but my heart soared. Throughout the autumn, I'd worried that my astronomy habit was waning. We'd had so many overcast and rainy nights, while my gear sat gathering dust. I watched live rocket launches and online tours of the night sky, but the occasional cloud breaks had grown fewer and farther between and just weren't worth the effort.
Winter stargazing is easier on my body: I can sit in the cool quiet and fill myself to overflowing with celestial sights in the early evening, sometimes before dinner. Though I've not yet found a pair of warm gloves that are nimble enough for switching out eyepieces and fine-tuning the focuser, there are few if any intrusions by nighttime walkers or loud, bright parties in nearby yards. Winter is the time when so many old and new astronomical favorites come out to play. I can look up to be filled with wonder and genuine passion all over again.
A few minutes with a pair of 7×35 binoculars on an icy-cold night brought that enthusiasm roaring back to life. I was laughing through tears as I came back inside. Maybe I shouldn't have been surprised that, just as before, the stars had brought me back to myself and rekindled a flame in the chilly darkness. I picked up my book and grinned my way through May's quest for the aurora borealis.
I never did figure out what that banging noise was, but I went to bed dreaming of the Orion Nebula.