Springer
233 Spring St., New York, NY 10013
212-460-1507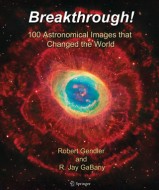 Premier astro-imagers Robert Gendler and R. Jay GaBany team up in their latest work Breakthrough!: 100 Astronomical Images that Changed the World (hardcover edition: $34.99). As the title suggests, the book highlights 100 astrophotographs, from the first successful image of the Moon captured in the mid-19th century through the discoveries by orbiting observatories and interplanetary probes. Essays on the groundbreaking science behind each discovery accompany each image. The authors have carefully selected their list of images to bring to the reader the most relevant photographic images of the science of astronomy. Springer, 171 pages, ISBN 978-3-319-20972-2.
SkyandTelescope.com's New Product Showcase is a reader service featuring innovative equipment and software of interest to amateur astronomers. The descriptions are based largely on information supplied by the manufacturers or distributors. Sky & Telescope assumes no responsibility for the accuracy of vendors statements. For further information contact the manufacturer or distributor. Announcements should be sent to nps@SkyandTelescope.com. Not all announcements will be listed.