DayStar Filters
149 NW OO Hwy., Warrensburg, MO 64093
660-747-2100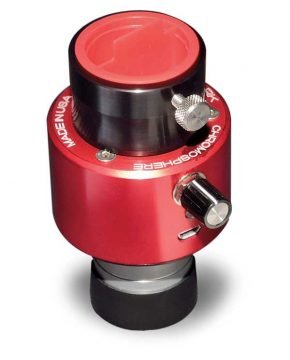 DayStar Filters adds to its line of affordable powered solar filters with the Combo Quark ($995). This compact solar hydrogen-alpha filter is designed for f/15 and longer focal lengths. The Combo Quark unit is a powered Fabry-Pérot etalon that is placed between your diagonal and eyepiece to produce high-contrast views of the Sun's dynamic chromosphere. The Combo Quark fits 1¼-inch focusers. Each purchase comes with a plastic case, end caps, and an AC power supply with international plug adapters. A full-aperture energy rejection filter is recommended for use with Schmidt-Cassegrain or Maksutov telescopes. See website for additional details and accessories.
SkyandTelescope.com's New Product Showcase is a reader service featuring innovative equipment and software of interest to amateur astronomers. The descriptions are based largely on information supplied by the manufacturers or distributors. Sky & Telescope assumes no responsibility for the accuracy of vendors statements. For further information contact the manufacturer or distributor. Announcements should be sent to nps@SkyandTelescope.com. Not all announcements will be listed.