Andor Technology Ltd.
7 Millenium Way, Springvale Business Park
Belfast, UK BT12 7AL
+44-(28) 9023 7126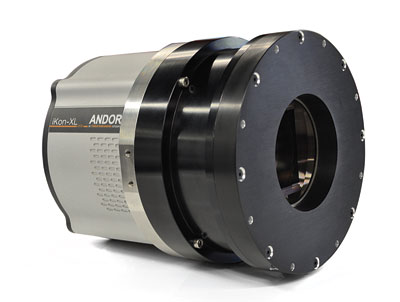 Andor announces the iKon-XL, a large-format CCD camera. This specialized camera is built around e2v front- or back-illuminated sensors in a 4,096 x 4,096 array of 15-micron-square pixels, ideally suited for large instruments. Its innovative cooling is capable of sustained temperatures down to -100°C without liquid nitrogen or other cryogenic cooling. The iKon-XL weighs 26.5 pounds (12 kg) and is available with USB3 or direct fiber optic interface. Contact the manufacturer for pricing and other options.
SkyandTelescope.com's New Product Showcase is a reader service featuring innovative equipment and software of interest to amateur astronomers. The descriptions are based largely on information supplied by the manufacturers or distributors. Sky & Telescope assumes no responsibility for the accuracy of vendors statements. For further information contact the manufacturer or distributor. Announcements should be sent to nps@SkyandTelescope.com. Not all announcements will be listed.