Orion Telescopes & Binoculars
89 Hangar Way
Watsonville, CA 95076
800-447-1001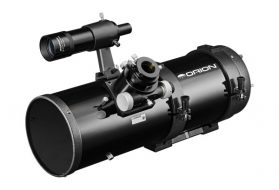 Orion Telescopes & Binoculars now offers a 6" f/4 Newtonian Astrograph Reflector Telescope ($399.99). This photographically fast Newtonian reflector is built around a 150-mm parabolic primary mirror manufactured from B270 glass that reaches thermal equilibrium quickly. An oversize 63-mm (minor axis) secondary provides excellent field illumination for larger DSLR or CCD cameras. A 2-inch, dual-speed linear-bearing Crayford focuser is designed to hold heavy imaging accessories without slippage, and its steel reinforcing plate viertually eliminates flexure. The scope weighs a total of 12.7 pounds and comes complete with tube rings, a Vixen-style dovetail mounting plate, and an 8x50 finderscope.
SkyandTelescope.com's New Product Showcase is a reader service featuring innovative equipment and software of interest to amateur astronomers. The descriptions are based largely on information supplied by the manufacturers or distributors. Sky & Telescope assumes no responsibility for the accuracy of vendors statements. For further information contact the manufacturer or distributor. Announcements should be sent to nps@SkyandTelescope.com. Not all announcements will be listed.