Solar Eclipse Timer
Available on both the iTunes App store and Google Play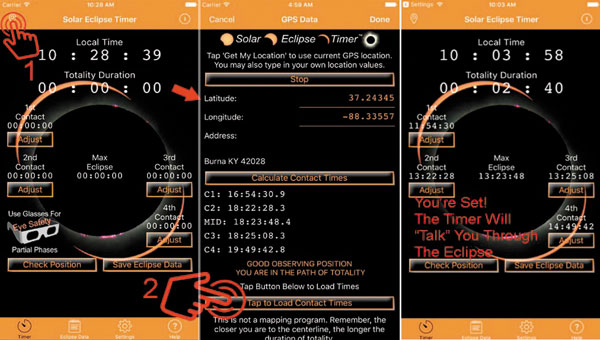 If you enjoyed the solar eclipse and want to photograph the next one, the Solar Eclipse Timer ($1.99) will help you plan and practice your photo sequence. This smartphone app for Android and Apple devices works in conjunction with your device's GPS to automatically calculate the exact duration of each major phase of the eclipse. The app will provide spoken countdowns leading to the times of first, second, third, and fourth contacts, as well as alerts for when it's safe to remove eclipse shades and when to put them back on. The app also includes announcements of interesting occurrences during the eclipse, such as temperature changes, wildlife behavior, and where to look for shadow bands. A demo total eclipse movie, synchronized with timers, is included to help users practice their photographic technique well before the event.
SkyandTelescope.com's New Product Showcase is a reader service featuring innovative equipment and software of interest to amateur astronomers. The descriptions are based largely on information supplied by the manufacturers or distributors. Sky & Telescope assumes no responsibility for the accuracy of vendors statements. For further information contact the manufacturer or distributor. Announcements should be sent to nps@SkyandTelescope.com. Not all announcements will be listed.