Springer International Publishing
233 Spring St.
New York, NY 10013-1578
212-460-1507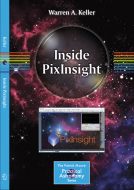 Astrophotographer Warren Keller reveals the secrets of advanced image-processing in his book Inside PixInsight (softcover $34.99, ebook $24.99). Keller details processing workflow in the powerful software PixInsight, allowing readers to produce stunning astrophotos from their own data. Each chapter walks the reader through processing steps essential for producing the highest-quality deep-sky astrophotography, including calibration and integration, batch pre-processing, background modelization, and much more. Screenshots are used to help illustrate the process of navigation this essential software program. Springer, 380 pages, ISBN 978-3-319-25680-1.
SkyandTelescope.com's New Product Showcase is a reader service featuring innovative equipment and software of interest to amateur astronomers. The descriptions are based largely on information supplied by the manufacturers or distributors. Sky & Telescope assumes no responsibility for the accuracy of vendors statements. For further information contact the manufacturer or distributor. Announcements should be sent to nps@SkyandTelescope.com. Not all announcements will be listed.