iOptron
6F Gill St., Woburn, MA 01801
866-399-4587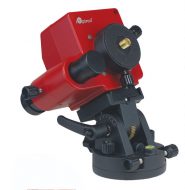 iOptron unveils its latest compact drive for nightscape photography, the SkyTracker Pro ($399). The unit attaches to your photo tripod and acts as a right-ascension driver, tracking your DSLR camera for long-exposure photography. The SkyTracker Pro includes a geared alt-azimuth base, which, coupled with its precision polar finder scope, allows precise alignment in minutes. The SkyTracker Pro fits both 3/8 and 1/4-20 tripod threads, and includes an internal rechargeable battery.
SkyandTelescope.com's New Product Showcase is a reader service featuring innovative equipment and software of interest to amateur astronomers. The descriptions are based largely on information supplied by the manufacturers or distributors. Sky & Telescope assumes no responsibility for the accuracy of vendors statements. For further information contact the manufacturer or distributor. Announcements should be sent to nps@SkyandTelescope.com. Not all announcements will be listed.