DayStar Filters
149 Northwest OO Hwy.
Warrensburg, MO 64093
660-747-2100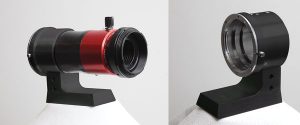 Turn your SLR lens into a solar telescope with DayStar Filters Camera Quark ($1,095). This compact solar hydrogen-alpha filter is designed to connect to Canon or Nikon manual-focus lenses. The Camera Quark unit is a powered Fabry-Pérot etalon that is placed between your lens and DSLR camera using the included Canon or Nikon adapter. It allows you to directly couple your DSLR with the unit to capture stunning images of the Sun's dynamic chromosphere. Or enjoy the views with the included 11⁄4-inch eyepiece adapter. The Camera Quark comes with a plastic case, camera lens adapter, two focus-extension tubes, a Quark-to-11⁄4-inch eyepiece adapter, and an AC power supply with international plug adapters.
SkyandTelescope.com's New Product Showcase is a reader service featuring innovative equipment and software of interest to amateur astronomers. The descriptions are based largely on information supplied by the manufacturers or distributors. Sky & Telescope assumes no responsibility for the accuracy of vendors statements. For further information contact the manufacturer or distributor. Announcements should be sent to nps@SkyandTelescope.com. Not all announcements will be listed.