Canadian Telescopes
3430 Brighton Ave.
Burnaby, BC Canada V5A 3H4
604-336-3821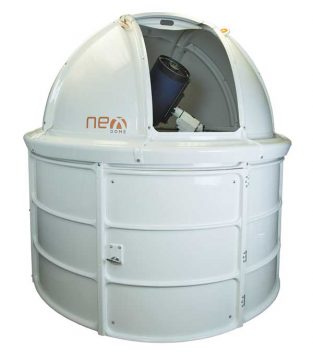 Canadian Telescopes introduces the NexDome Observatory (starting at $1,795 for the dome only). This 2.2-meter (8-foot) dome is manufactured from multiple layers of impact-resistant ABS material that retains its shape under a wide range of temperatures. An additional, outer layer of Solarkote protects the structure from ultraviolet deterioration. The NexDome rides on two sets of wheels that prevent shifting and ensure smooth rotation while securing the dome during high winds. Its modular design allows a single person to assemble the dome in just a few hours with common household tools. See the manufacturer's website for additional options.
SkyandTelescope.com's New Product Showcase is a reader service featuring innovative equipment and software of interest to amateur astronomers. The descriptions are based largely on information supplied by the manufacturers or distributors. Sky & Telescope assumes no responsibility for the accuracy of vendors statements. For further information contact the manufacturer or distributor. Announcements should be sent to nps@SkyandTelescope.com. Not all announcements will be listed.