Vixen Optics
1050 Calle Amanecer, Suite C, San Clemente, CA 92673
949-429-6363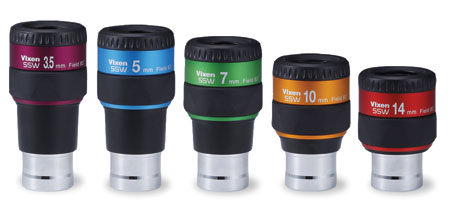 Vixen Optics announces a new series of wide-field eyepieces. The SSW Ultra Wide Eyepiece series ($349 each) provides an expansive 83° apparent field of view with eye relief of 13 mm. These 1¼-inch oculars incroporate a 7-element design with high-transmission lanthanum glass and multi-coated surfaces to produce ghost-free images across the entire field. The series' hexagonal barrel design prevents rolling, and each model includes a retractable eye cup with rubber grip. Available in focal lengths of 3.5, 5, 7, 10, and 14 mm.
SkyandTelescope.com's New Product Showcase is a reader service featuring innovative equipment and software of interest to amateur astronomers. The descriptions are based largely on information supplied by the manufacturers or distributors. Sky & Telescope assumes no responsibility for the accuracy of vendors statements. For further information contact the manufacturer or distributor. Announcements should be sent to nps@SkyandTelescope.com. Not all announcements will be listed.