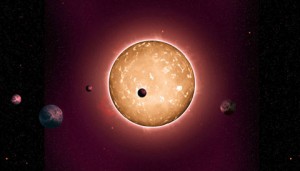 Astronomers have potentially confirmed a five-planet exoplanet system around an 11-billion-year-old star in our galaxy. The star, Kepler-444 (a.k.a. HIP 94931 in the constellation Lyra), is a K0V star, meaning it's a red dwarf slightly cooler than our Sun that's fusing hydrogen in its core.
Tiago Campante (University of Birmingham, UK, and Aarhus University, Denmark) and colleagues investigated the five repeating planet-like transit signals, which were caught by the Kepler spacecraft over the course of the four years of the craft's observations. With estimated sizes ranging from 0.4 to 0.74 times Earth, all five should be rocky, but not a one is in the star's habitable zone: they all orbit the parent star within 0.08 Earth-Sun distances, or less than one-fifth the size of Mercury's orbit. An optimistic habitable zone would start at 0.47 Earth-Sun distances, nearly six times farther out.
Kepler-444 is not the first star of this age with planetary children: astronomers have also found two planets around Kepler-10 (about 10 billion years old) and two planets around Kapteyn's star (also around 11 billion years old). Those planets are larger (super-Earth class or a bit bigger). But as the press release from Yale explains, it's exciting to find exoplanets that formed around the same time as the Milky Way itself was coalescing.
You can read more in the team's paper, which appears in the February 1st Astrophysical Journal. (Preprint draft here on the arXiv.) There's also a neat animation of the Kepler-444 system (comparison with our solar system begins at 0:35 time stamp).