Visit the dwarf planet Ceres in this video animation created from images taken by NASA's Dawn spacecraft.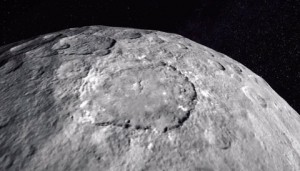 Feeling stir-crazy? Take a trip to Ceres, the largest asteroid in the main belt. Your rocket ship might not be fueled and ready for takeoff, but thanks to NASA's Dawn mission you can see Ceres virtually.
Dawn arrived at Ceres in March, and since then it's been slowly spiraling closer to the dwarf planet, checking out features such as the weird bright spots. This JPL video (below) is based on 80 images taken by Dawn during its first mapping orbit, 13,500 km (8,400 miles) above the surface. Team members analyzed overlapping images to create the 3D terrain. Even so, the video is not true to life: the team doubled the vertical dimension, exaggerating features' prominence. So what you see in the video is a souped-up version of what Dawn is seeing as it orbits the asteroid.
Since taking these images, the spacecraft has descended into a lower, survey orbit only 4,400 km above the surface. It'll stay in this orbit for three weeks, using both camera and spectrometer to create global maps as it circles the asteroid about once every three Earth days. After that, it'll continue descending into two even lower orbits, ultimately reaching an altitude of only 375 km. That's about the same altitude as the International Space Station's orbit above Earth.