Two binary systems and a fifth stellar wheel make for a rare, and so far unique, set of stars.
Multiple systems — when two or more stars orbit a center of gravity between them — are not unusual. In fact, almost all bright, massive stars have companions, as do about half of Sun-like stars. Some famous examples include Sirius, the brightest star in the Northern sky and its faint  white dwarf companion, and the triple Alpha Centauri system that includes the closest star to Earth, Proxima Centauri.
But systems containing more than three stars are rare. So Marcus Lohr (The Open University, UK) and colleagues were understandably excited in 2013 when they discovered a quadruple star system (1SWASP J093010.78+533859.5) in Ursa Major. It contains two eclipsing binaries, where both systems are angled edge-on to Earth so that during every orbit, one star passes in front of, and is eclipsed by, its partner.
It was a rare find, but this year the team upped the ante when they discovered a fifth star hiding in the mix. The five-star system is around 9 to 10 billion years old.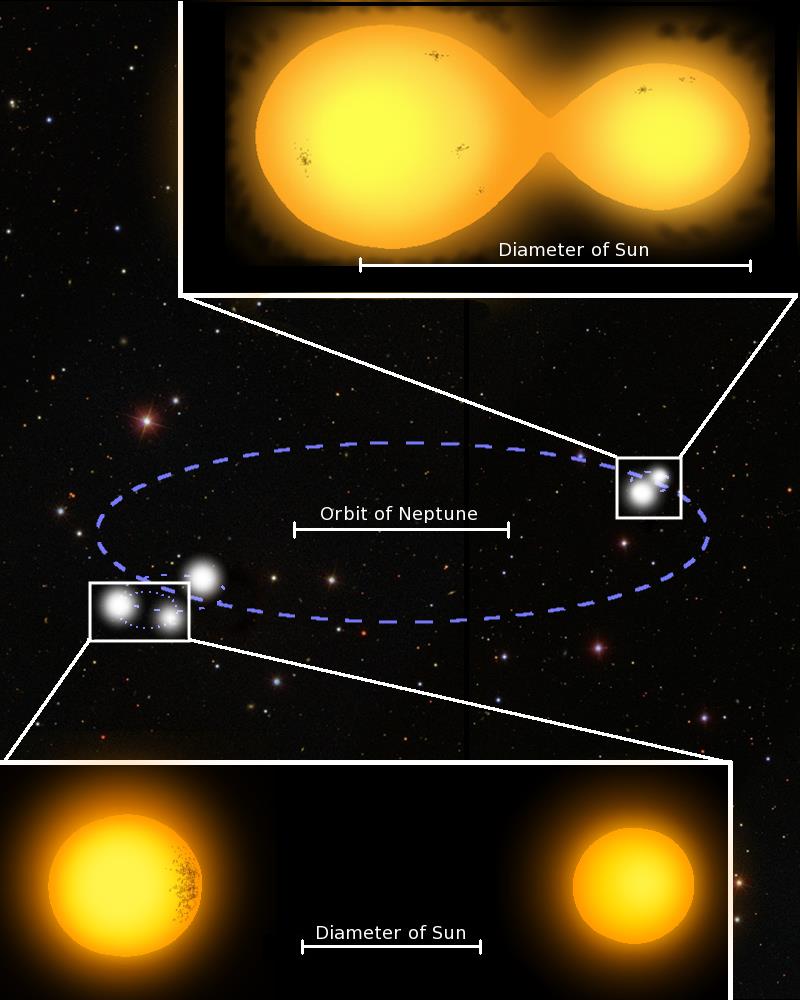 Commenting in a press release, Lohr related the discovery to what for now remains science fiction: "This is a truly exotic star system . . . Any inhabitants [of this system's exoplanets] would have a sky that would put the makers of Star Wars to shame — there could sometimes be no fewer than five Suns of different brightnesses lighting up the landscape. Days would have dramatically varying light levels as the different stars were eclipsed. They would though miss out on night for a large part of their 'year', only experiencing darkness (and a night sky) when the stars were on the same side of their world."
(Star Wars isn't the only one to take on multiple stars: Isaac Asimov wrote a pretty bleak tale on how alien people living under six suns might react to rare total darkness in his short story, "Nightfall.")
The two binaries' similar inclination angles hint that the quintuplets formed when a single protostellar disk fell into pieces. The authors don't speculate further, but write, "This bright, close, and highly unusual star system would doubtless repay further investigation."
Reference:
Marcus Lohr et al. "The doubly eclipsing quintuple low-mass star system 1SWASP J093010.78+533859.5." Astronomy & Astrophysics. June 2015.