With no Moon to brighten the night, this year's rich Geminid meteor shower should be one of the best ever. Find a spot away from city lights, dress warmly, and don't forget the hot chocolate.
Here's something we can all look forward to: On the night of December 13–14, the annual Geminid meteor shower reaches its peak. The richest shower of the year, the "Gems" bring intensity to the meteor experience with up to 120 meteors visible per hour under optimal conditions and when the radiant at the zenith. Most of us have to put up with varying amounts of light pollution, so let's be more realistic and call it 50–60 per hour. That's still more than enough for a memorable night. And with the new Moon at play, this will be the best Geminid display until 2023.
When to Watch
The shower is exceptional not only for its numbers but also for its high percentage of fireballs, meteors that attain a magnitude of –3 or brighter. It's also the best kids' shower of the year because you can start watching as early as 9 or 10 p.m. instead of the usual "2 a.m. till dawn." The Gemini constellation rises in the evening around 7 p.m. local standard time and already stands 30° high, or a third of the way up the northeastern sky, by 9 p.m. This year's shower maximum is predicted for 1:00 UT (8 p.m. EST), bolstering chances for a better-than-usual evening show for skywatchers in the Americas.
I've invited both my daughters to join me that night. We'll make sure the lawn chairs are spaced at least six feet (2 meters) apart and there's plenty of hot chocolate. Whether shared with family or friends, small-group meteor-watching can be a safe, socially distant activity.
If you like, you can start even earlier at 7 or 8 p.m. and face northeast to watch for earthgrazers, meteoroids that gracefully skim across the upper atmosphere on long shallow trajectories like stones skipping across a pond.
Of course, the later you stay up, the more meteors you'll see. That's because fewer Geminids are cut off by the horizon as the shower's radiant climbs during the night. By the time Gemini crosses the meridian around 2 a.m. local time, the entire dome of heaven is their playground. Numbers also increase after local midnight because that's when Earth turns into the direction of its orbital motion, facing the wind as it were. We then plow directly into the meteoroid stream.
So many choices, right? You can watch from 9–10:30 p.m. local time and call it a night. Or catch a few in the evening and then set the alarm for 1 a.m. and observe till 5:30. OK, maybe that's a little extreme, but hey, it's 2020. I usually split the difference and start around 10:30 p.m. and finish around 1 a.m., the better to sample both temporal realms. To stay warm I'm fully dressed for winter and recline in a lounge chair with a wool blanket hiked up to my nose.
Where to Watch
Geminids will shoot all over the sky, so you can face any direction to watch the shower. Meteors near the radiant look like short sparks, while those in the opposite half of the sky make long streaks. I like looking off about 45° to the right of the radiant (east-southeast in this case) to see a mix of both. All Geminids will point back to the radiant, unlike random meteors called sporadics.
If the forecast looks cloudy for the 13th, try watching the night before, when you might see up to 30 per hour from light-polluted locales, or the following night when the rate drops to closer to 15. You can even watch the show online in real time at astronomer Gianluca Masi's Virtual Telescope Project site starting at 22:00 UT (5 p.m. EST) on December 13th.
Compared to the zippy Leonids of November, the Geminid meteors have time on their hands. They enter the atmosphere at around 22 miles per second (35 km/s) and often linger a second or two. Also, Geminids rarely leave trains — glowing trails of ionized air molecules that follow in a meteor's wake. This could be due to their extra density, which is several times that of average meteoroids.
A Hot, Dusty Origin
Most meteor showers stem from fluffy, dusty debris expelled by comets when their ices sublime from solar heating. The Geminid meteor shower instead evolved from 3200 Phaethon (FAY-uh-thon), a 5-kilometer-wide asteroid that passes closer to the Sun than any known, at a distance of just 20.9 million kilometers. Temperatures on its surface reach 1300°F (700°C), high enough to stress and rupture its crust, releasing debris that forms an occasional tail and provides the source material for the Geminids.
We tend to think of meteor showers as ancient. The earliest observations of the Perseids are found in Chinese records dated AD 36, while the Lyrids go back even further to 687 BC. In contrast, the first definitive confirmation of the Geminids wasn't made until 1862.
Joe Rao, a broadcast meteorologist and Sky & Telescope contributing editor, performed a study of the shower using an orbit simulator and discovered that the major part of Geminid stream is currently inside Earth's orbital track. Around the year 2080 the two orbits should nearly coincide, which could almost double the shower's current meteor rate to better than 200 per hour. Depending on the spread of Phaethon's debris, the Geminid meteor shower could end abruptly thereafter or slowly diminish to nothing by the late 23rd century.
If that sounds like a compelling reason to get out and watch the shower now, it is. Astronomy exposes us to the vastness of time, while watching a meteor reveals the significance of the moment. The tension between these two extremes may just send chills up your spine on Sunday night. Clear skies!
---
---
How to Bag a Meteor
If you'd like to try your hand at capturing a meteor photo, here are some tips.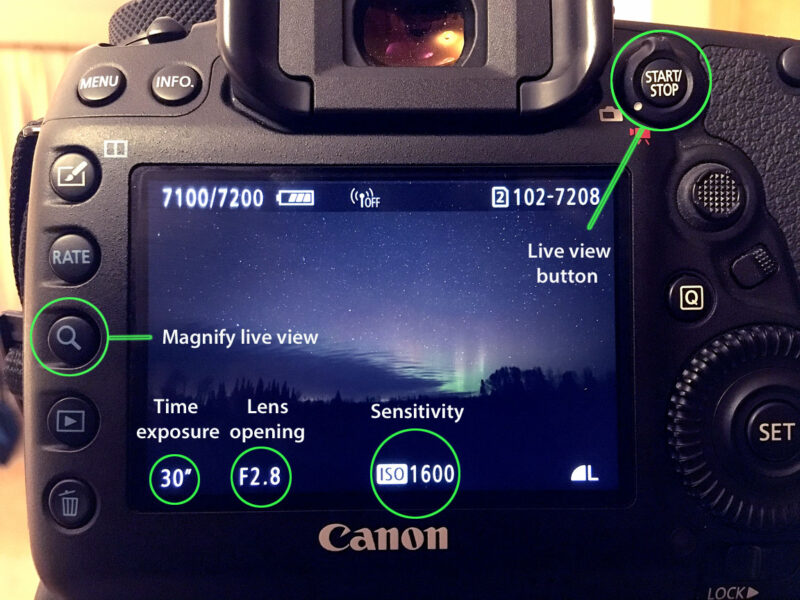 Fully charge your DSLR camera's battery.
Use a wide-angle lens (35 mm, 24 mm, 16 mm focal length) and set both the lens and shutter speed / exposure knob to manual mode, denoted by the letter M.
Set the ISO to 800 if light pollution is moderate or 1600 if there's little or no pollution. Click the barrel's f/stop ring and select the smallest number to let in the maximum amount of light. F/2.8 is best, but some cameras only open as wide as 3.5 or 4, in which case set the ISO to 1600 or 2500 instead of 800.
Place the camera on a tripod, center a bright star in the viewfinder, and activate the Live View function. Press the magnifying button to enlarge the image 5× to 10× and then carefully focus the star. If Live View is unavailable, pre-focus earlier in the day on a cloud or the Sun (always use a safe solar filter).
Compose a photo with the radiant off to one side of the frame and take the picture. Include some foreground trees or buildings for interest.
Expose for 30 seconds. You can do this repeatedly by hand or automatically with an intervalometer (remote shutter release) that cost around $20–40. Highly recommended!
To prevent lens fogging in case of frost or dew, rubber band chemical handwarmers around the lens barrel, top and bottom.
Take lots of photos and carefully review your images for meteors. Good luck!