A radar sounder aboard China's first-ever lunar lander found at least nine discrete subsurface layers at its landing site in northern Mare Imbrium.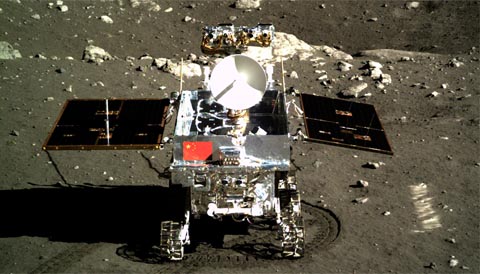 When China's Chang'e 3 spacecraft came to rest atop northern Mare Imbrium on December 14, 2013, it achieved the first soft landing on the Moon since 1976. Within a day, the Chinese National Space Administration released captivating video of a small, six-wheeled rover called Yutu ("Jade Rabbit") trundling down a ramp and onto the dusty lunar surface.
The main spacecraft and rover each carried four instruments. On the lander were three cameras and a small ultraviolet telescope for monitoring Earth's hydrogen plasmasphere and other celestial targets. Yutu got the geoscience payload: a wide-field camera, visible-infrared imaging spectrometer, X-ray spectrometer, and ground-penetrating radar. These experiments worked well for more than a year (Chang'e 3's nominal lifetime) — in fact, a few months ago mission scientists showcased their results in a 16-article special issue of the Chinese journal Research in Astronomy and Astrophysics (the articles are in English).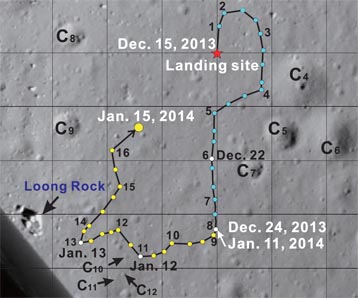 (If you just want to sightsee, the Chinese Academy of Sciences has posted a nice gallery of images from Chang'e 3 and Yutu. And don't miss the video taken by Chang'e 3 during its descent to the lunar surface. For context, peruse the collection of views looking down on Chang'e 3 and Yutu taken by NASA's Lunar Reconnaissance Orbiter.)
Plans called for Yutu to travel up to 10 km (6 miles) over three months, but a mechanical malfunction prevented its solar-cell panels from closing to help insulate the craft's interior during the long lunar night. So it only managed to traverse about 114 meters (375 feet) along a zigzag route that ended up about 20 m (65 feet) to the southwest of the lander. Yet Yutu made the most of its limited mobility, venturing to the lip of a nearby crater about 450 m (0.25 mile) across.
In Science for March 13th, mission scientists led by Long Xiao (China University of Geosciences) report results from the ground-penetrating radar, which operated at 500 megahertz (MHz) to probe the lunar landscape to depths of to 12 m (40 feet) and at 60 MHz to reveal structures down to about 400 m (0.25 mile).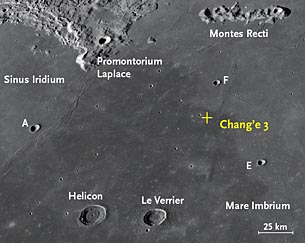 This area of Mare Imbrium is known to be crisscrossed by multiple lava flows, and Xiao's team has mapped at least nine discrete subsurface rock layers. The deepest ones represent lava that flowed over the region some 3.3 billion years ago. Higher up are flows that the researchers think are significantly younger, 2.5 billion years old, based on prior geologic analysis of Mare Imbrium's evolution. S&T contributing editor Charles Wood points out that this young flow can be observed visually just to the west of the landing site as a dark expanse overlying the lighter-hued older unit.
But the topmost pair of layers detected by Yutu's radar, which vary in thickness but together average about 4 m, appear to be rubble thrown out by that sizable nearby crater. Based on the number of small craters surrounding it, the researchers estimate that it formed 27 to 80 million years ago. Here and there along Yutu's track, the radar echoes also revealed what are probably buried boulders tossed out when the crater formed.
Lunar scientists certainly expected near-surface layering underneath Chang'e 3, but, as Xiao's team concludes, "there is more complex geologic history than we had thought."
---
You can explore the lunar landscape yourself with Sky & Telescope's new lunar globes. Choose either the natural-hued Moon you see by eye or the color-coded topographic version.