A long-ago encounter between our galaxy and an orbiting dwarf might have ejected some of the Milky Way's stars.
A deep look into the skies above the plane of the Milky Way reveals ethereal clouds and streams of stars. These stars aren't in our galaxy's disk — they're part of the 1% of stars that comprise the stellar halo. They're generally thought to be ghosts of dwarf galaxies past, long ago torn into shreds after encounters with our more massive galaxy.
Now, new research shows that some of these stars might not be dwarf remnants at all — they might have come from the Milky Way's own disk. The question then becomes: How did they travel all the way from the disk out into the stellar halo?
Maria Bergemann (Max Planck Institute for Astronomy, Germany) and colleagues have explored stars in two stellar populations known as the Triangulum-Andromeda (TriAnd for short) and A13 using the Keck I telescope in Hawaii and Very Large Telescope in Chile. The results are published in Nature Astronomy.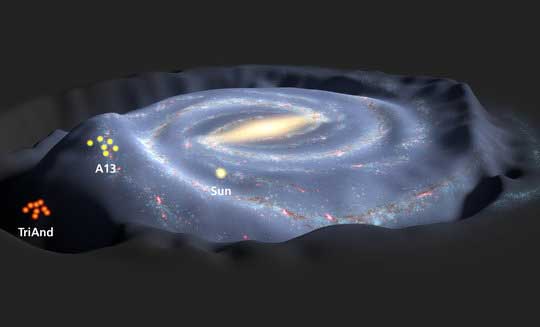 Both clouds are well outside the Sun's galactic orbit, between 50,000 and 65,000 light-years from the galaxy's center, and well into the stellar halo. A13 floats roughly 15,000 light-years above the galactic plane, while TriAnd is 16,000 light-years below the plane.
After collecting the spectra of 14 stars, the astronomers measured the abundances of elements heavier than hydrogen and helium. Stars in the stellar halo are usually poor in heavy elements. But the 14 halo stars the group studied were surprisingly rich in heavy elements, more akin to the galaxy's disk than its halo.
Moreover, the heavy-element abundances of TriAnd and A13 stars were similar to each other. Even though they're separated by about 30,000 light-years, the two groups appear to have a common origin.
So what's their origin? Bergemann and colleagues think one possible scenario is that a large dwarf galaxy, known as Sagittarius, careened into the Milky Way somewhere between 5 billion and 9 billion years ago. This destroyed dwarf can still be seen as the most visible streams in the galactic halo. According to the team's computer simulation, such an interaction would have disrupted the Milky Way's disk, sending swirls of stars above and below the galactic plane.
"[These measurements] provide tantalizing evidence that there has been more activity in the Milky Way than previously thought," says Ana Bonaca (Harvard-Smithsonian Center for Astrophysics).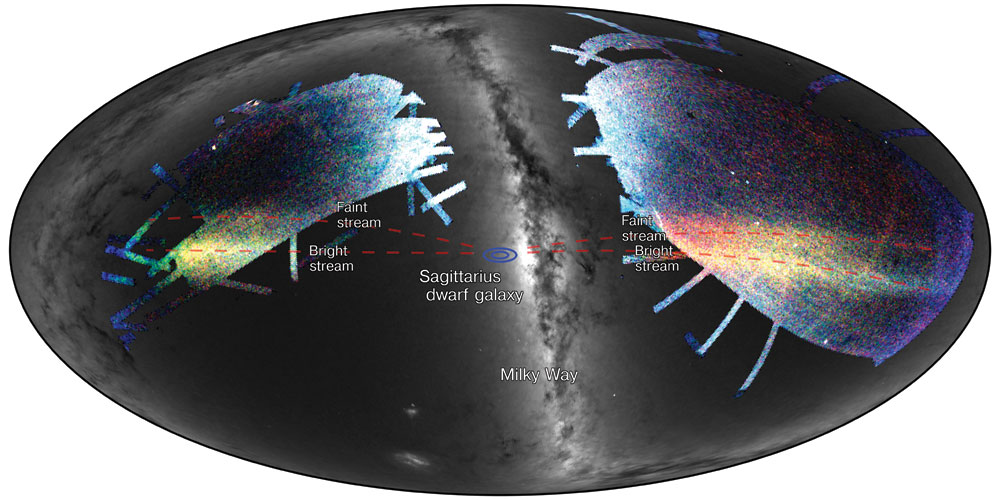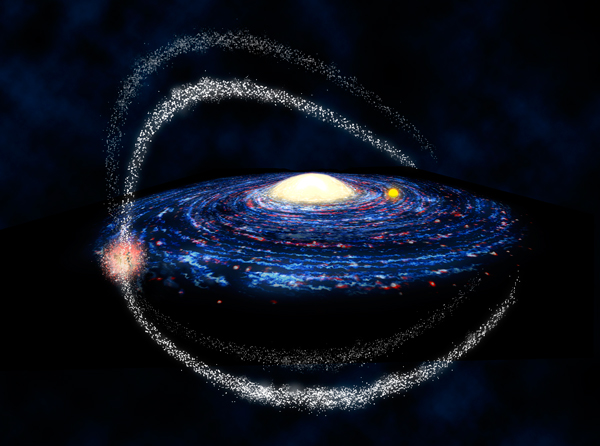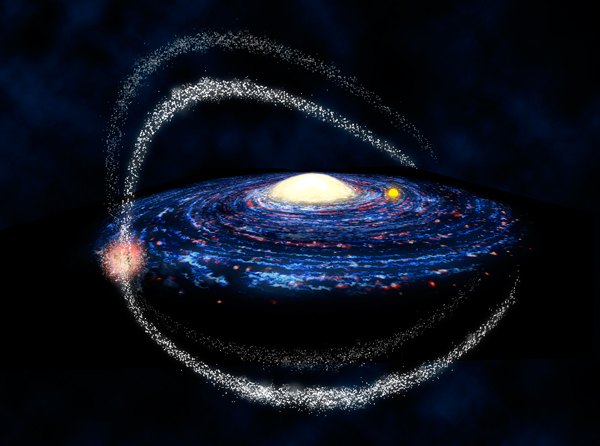 ---
Further Reading
This isn't the first time a dwarf galaxy has been found to blame for galactic oddities. Find out how a collision with a dwarf might have sent ripples through the Milky Way, and how astronomers are trying to catch the culprit of the hit-and-run.