Sky & Telescope contributing editor Govert Schilling has won the 2014 David N. Schramm Award. The High Energy Astrophysics Division (HEAD) of the American Astronomical Society presents this award annually to recognize distinguished writing on high-energy astrophysics, a field that explores some of the most exciting phenomena in the universe, including gamma-ray bursts, supernovae, and black holes. The winning article, "The Frozen Neutrino Catcher," appeared in the January 2014 issue of Sky & Telescope.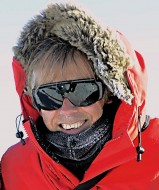 "The Frozen Neutrino Catcher" recounts Schilling's visit to the IceCube Neutrino Observatory in December 2012 through the National Science Foundation's Antarctic media visit program. The underground laboratory, located at the South Pole, uses the Antarctic ice to detect cosmic neutrinos –ghostly particles that zoom almost unimpeded through space. IceCube scientists are working hard to catch these particles with the hope that the neutrinos' energies and incoming directions will reveal information about the sources in the universe that produce them.
Schilling is a Dutch astronomer and freelance astronomy writer. He's also the first non-native English writer to receive the David N. Schramm Award. He has authored a number of popular astronomy books, including The Hunt for Planet X: New Worlds and the Fate of Pluto and Flash! the Hunt for the Biggest Explosions in the Universe. His latest book, Deep Space, will be published in the fall of 2014 by Black Dog & Leventhal Publishers in New York.
A committee of scientists and journalists appointed by the HEAD Executive Committee judge each year's submissions for the David N. Schramm Award. The winner receives a plaque, as well as a prize of $1,500 and travel expenses to a future HEAD meeting. Schilling has been interested in the extreme universe since he first met David Schramm (widely considered the father of particle astrophysics) in 1990, and he's honored to receive the prize named for him.
Read the winning article in the January 2014 issue of Sky & Telescope.