Now in its 15th year, the Edgar Wilson Award recognizes comet discoveries made by amateur observers. The 2013 awards honor seven dedicated individuals who scan the skies.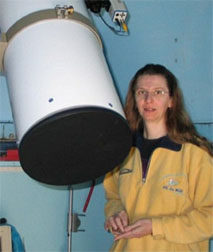 Tucked at the bottom of the International Astronomical Union Circular 9269, issued on April 30th, is a paragraph listing the names of seven amateur observers, scattered around the world, who found a comet between June 2012 and June 2013. These individuals are the 2013 recipients of the Edgar Wilson Award for comet discoveries by amateurs. Each will receive a nice plaque to commemorate his accomplishment and, perhaps best of all, a nice cash award. This year's recipients will share equally in a $42,000 prize fund. Here's the list of winners and their finds:
Paulo Holvorcem, Porto Seguro, Brazil, for C/2013 D1
Masayuki Iwamoto, Awa, Japan, for C/2013 E2
Tomas Vorobjov, Bratislava, Slovak Rep., for P/2012 T7
Claudine Rinner, Ottmarsheim, France, for three comets named MOSS
Michael Schwartz, Rio Rico, Arizona, for several comets named Tenagra
Vitali Nevski, Vitebsk, Belarus, for Comet ISON (C/2012 S1)
Artyom Novichonok, Kondopoga, Russia, for Comet ISON (C/2012 S1)
The first three of these objects bear the surname of their respective discoverers. (To become immortal in the annals of astronomy, go find a comet!)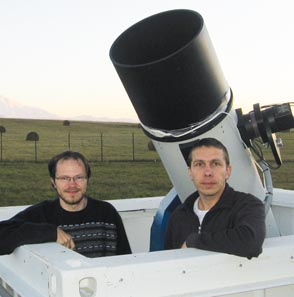 But the last four do not. Instead, these recognize teams or networks of telescopes involved in the discovery. ISON, for example, stands for International Scientific Optical Network. This famous find, which had everyone's attenion late last year, should have been called Comet Nevski-Novichonok. But the two discoverers reported that they'd spotted a fuzzless asteroid — only later did others note its cometary appearance.
Technically, the rules for the Edgar Wilson Award stipulate that only those comets named for their discoverers should be eligible. In fact, a press release from the Harvard-Smithsonian Center for Astrophysics lists the same seven awardees — but a somewhat different set of corresponding comets.
The issue is that sometimes it's hard to know just exactly who qualifies as an amateur astronomer these days. Take, for example, the La Sagra Sky Survey. This group of amateur observers is using robotic telescopes in southern Spain to search for near-Earth asteroids, and one of the scopes occasionally sweeps up a comet. They're doing good work, and team member Jaime Nomen won a share of the 2011 Edgar Wilson award. But in recent years the Spanish observers have started to get some funding for their work — so are they still amateurs or not?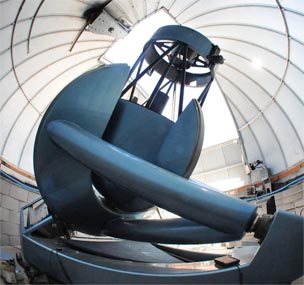 Or consider Tenagra Observatories in Arizona. It's an observatory complex in southern Arizona that's privately owned by Michael Schwartz. Little more than a dream concept several years ago, Tenagra now boasts a fully automated 32-inch reflector and a 16-inch astrograph with a 1½°-wide field of view. This gear is so good that professional astronomers are lining up to use it. So is this "amateur equipment" or not?
Whatever the answer, amateurs are clearly back in the comet-hunting game. Check out German observer Maik Meyer's tally of comets discovered in 2013. It shows that amateurs made more than 20% of last year's finds — 14 of 67. As German science writer Daniel Fischer points out, that's the highest ratio since 1995 and the highest total count of amateur discoveries since at least 1990.
"Amateur astronomers have become increasing competitive with professional astronomers in finding comets in the past decade," notes Daniel Green, director of the IAU's Central Bureau for Astronomical Telegrams. "The availability of high-quality CCD cameras and telescopes that can be easily used remotely by amateur astronomers has brought the unpaid astronomer back into the discovery picture in a big way."
A little background on the Edgar Wilson Award: Established in 1998 and first offered in 1999, it came about thanks to the generosity of the late Edgar Wilson of Lexington, Kentucky, who developed a keen interest in astronomy before his death in 1976. Here's the list of last year's five winners.