Download or play Sky & Telescope's astronomy podcast, and you'll get a guided tour of the night sky. In early evening look for Mars and Saturn embedded in Scorpius toward south, and key an eye out for Perseid meteors.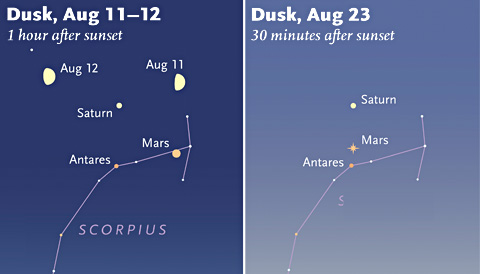 Ask a skywatcher what's special about August, and the response will likely be the Perseid meteor shower. These "shooting stars" are caused when little bits of grit shed by a comet called Swift-Tuttle slam into our atmosphere. Every August, we plow right through this stream of dusty debris. The shower should reach its peak late on Thursday night, August 11th, and Friday morning, the 12th.
While you're waiting for the Perseids to show up, look toward south for a trio of stars in the shape of a triangle. Its very bright right corner is anchored by Mars. To its upper left is Saturn, and below that, the dimmest of the three, is the only true star: Antares, the heart of the constellation Scorpius. Mars moves eastward quite a bit this month, and by month's end the triangle collapses to a line.
For more tips on what to see in the night sky during August, listen to (or download) our monthly astronomy podcast below.
Podcast: Play in new window | Download
Subscribe: Apple Podcasts | Android | Email | Google Podcasts | Stitcher | Spotify | RSS | More