Our current visitor from the Oort Cloud, rising into northern skies at last, can be glimpsed with binoculars low in the east before dawn. Spotting it will be especially easy on December 7th.
When it comes to spotting celestial objects before dawn, I'll admit to being an "observer of convenience." If I make the effort to get up that early, what I'm looking for had better be easy to find and appreciate. So expect to see me outside around 5 a.m. this coming week to check out Comet Catalina.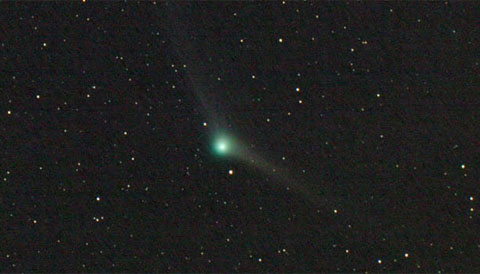 The interloper's formal designation, C/2013 US10, tells us that we've been waiting for this visitor from the Oort Cloud to reach its peak for quite some time. It's got a steeply inclined, retrograde orbit, and as it approached perihelion (November 15th), the comet lingered in the southern sky, hidden from those of us well north of the equator. However, in the past two weeks it has climbed steadily in declination and can now be glimpsed low in the east at or just before the start of morning twilight.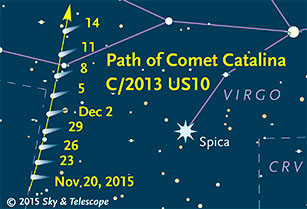 Unfortunately, Comet Catalina hasn't lived up to early expectations that it would blossom to naked-eye visibility and peak at around 4th magnitude. While it is shining near 6th magnitude right now, this value assumes that all of the glow from its coma, reportedly a few arcminutes across, is concentrated into a single starlike point.
But let's be optimistic: while it's already heading away from the Sun, C/2013 US10 will continue to glide nearer to Earth until mid-January. Many observers report seeing it through binoculars, and recent photographs show thin, widely splayed gas and dust tails.
Now that the bright Moon has been reduced to a waning crescent, it's an excellent time to go comet-hunting. Start looking no later than an hour before dawn, by which time Comet Catalina has risen at least 15° above the southeast horizon. Use binoculars or a small, wide-field telescope — along with Sky & Telescope's detailed chart above — to locate it in the coming weeks.
Even without the chart, you can use dazzling Venus as a guide for spotting Comet Catalina, which is gliding upward to the planet's left during the next week. And if you only want to get up early once, circle next Monday, December 7th, on your calendar. On that morning, your target will be left of Venus and only 4½° away — they should both fit within the field of view of binouclars. What's more, the planet and comet will be joined by a lovely crescent Moon just four days from new. Snap some pictures, and then add your best effort to our online photo gallery.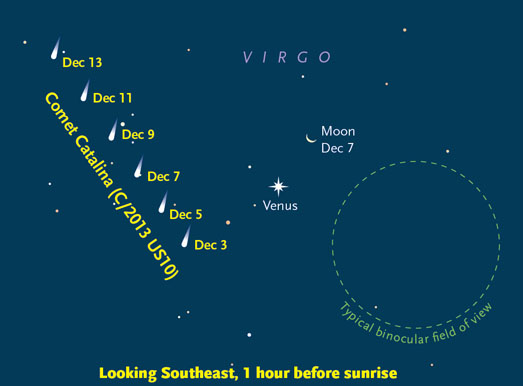 With luck, C/2013 US10 will stay decently bright as it climbs higher into the sky. You'll be able to observe it Moon-free until late this month, and on New Year's morning Comet Catalina will be just ½° from Arcturus (and rises near midnight for far-northern observers — woo-hoo!). It passes closest to Earth, at a distance of 0.72 astronomical unit (108 million km) on January 12th, by which time it will be sailing past the Big Dipper's handle.
So you and I really have no excuse not to try to observe this comet. Give it a try, and let me know (via a comment below) what you find.