Arizona comet hunter Don Machholz did it again! He discovered his 12th comet only two mornings ago. Set your alarm, grab your scope, and take a look. 
UPDATE (Nov. 11, 2018): Comet brightens and gets an official name. Scroll down for news and new maps.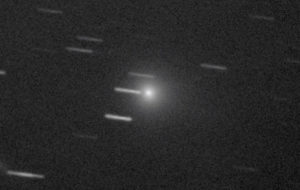 With all the automated searches busily looking for anything crawling across the sky, it's a wonder an amateur can still discover a comet. Yet that's exactly what happened on November 7.53 UT, when Don Machholz, the most successful living visual comet hunter, visually picked up a new comet in Virgo near the break of dawn from his Colfax, California home. Two Japanese observers — Shigehisa Fujikawa and Masayuki Iwamoto — independently spotted the object around the same time and potentially will have their autographs added to the comet's final, official name.
Let's hear it from the discoverer via his Twitter account:
"746 hours of searching since my last visual comet discovery in 2010 and on Nov. 7.53 UT I visually discovered my 12th comet and today it was confirmed!"
Congratulations, Don — you beat the robots!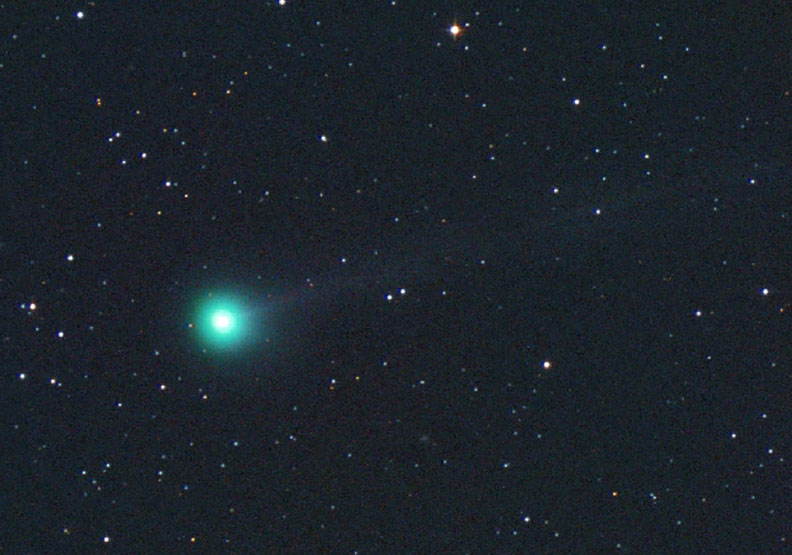 For now, the comet has been given the temporary designations TCP J12192806-0211143 and DM001. According to early observations shared on the comets-ml mailing list, the new object is magnitude 10.2 with a moderately condensed 4′ (arcminute) coma and a short tail extending west in position angle 264°. Lucky for us, the new visitor stands about 20° high just before the start of morning twilight in Virgo, quite close to the easy naked-eye star (and beautiful double!) Gamma (γ) Virginis .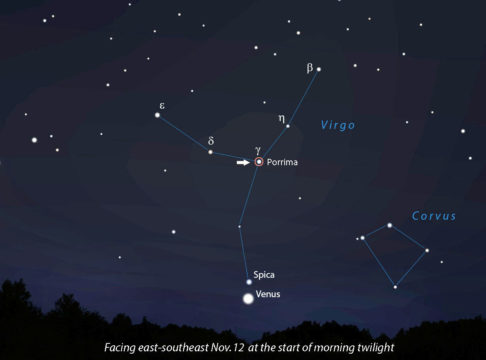 We don't have many more details on the comet because an accurate orbit is still being determined. I used current ephemerides to plot its position for the next couple mornings so as many people as possible can tote out a scope for a look. With the comet at 10th magnitude under reasonably dark skies, an 8-inch should show it no problem. We'll have an orbit In the next few days, after which time I'll post a chart for more extended viewing.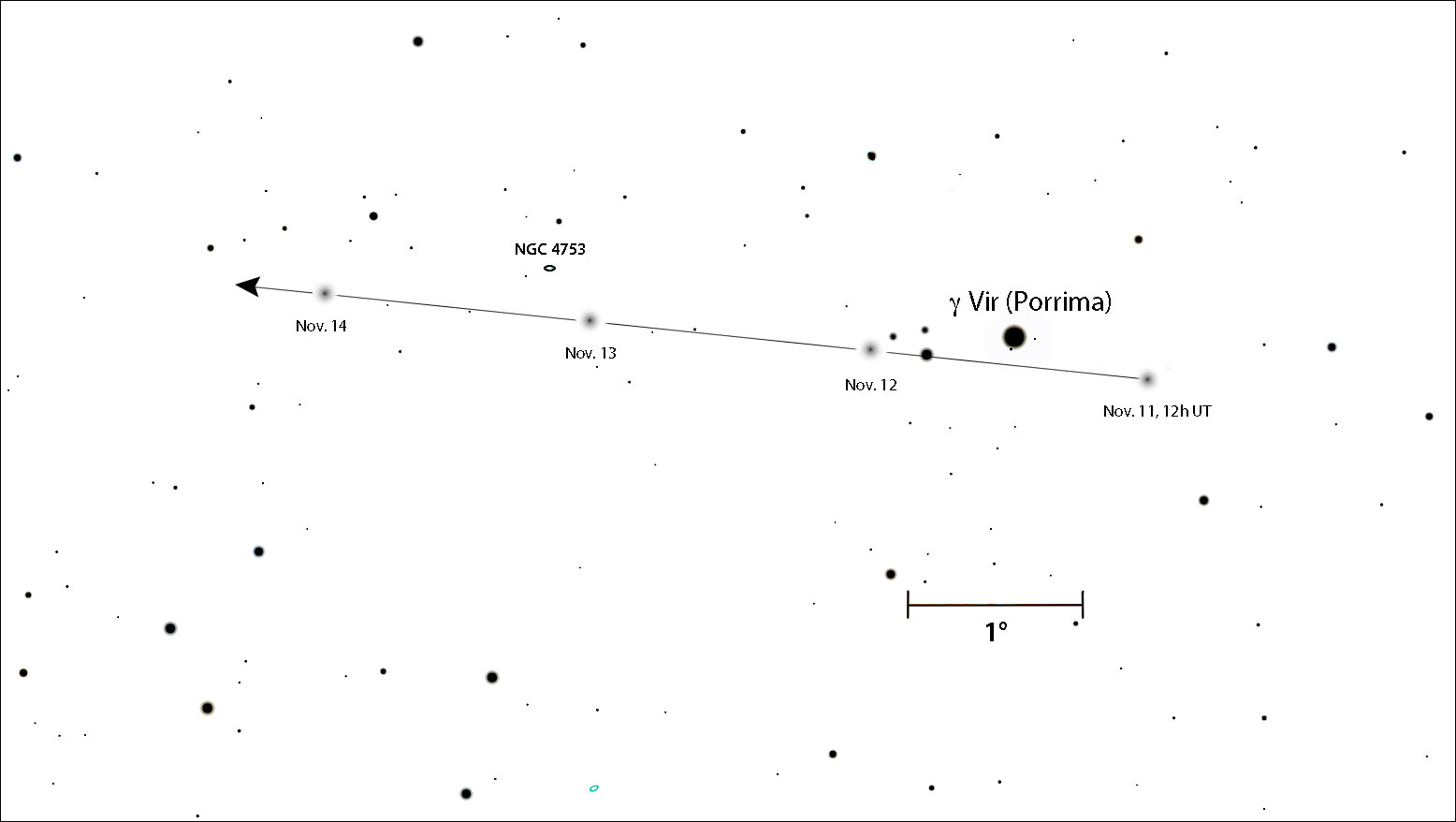 In the meantime, you can use these orbital elements, kindly provided by Reinder Bouma, in your sky mapping apps and programs to create your own charts:
T = 2018-12-03.57797,  q=0.3850987,  e=1.0,  peri=89.16004,  node=128.86148,  i=143.72993
It's unclear just when perihelion will be — I've seen estimates from late November to mid-December. We'll know soon as to whether this is a brand new object or the return of a long-lost periodic comet. Likely the former.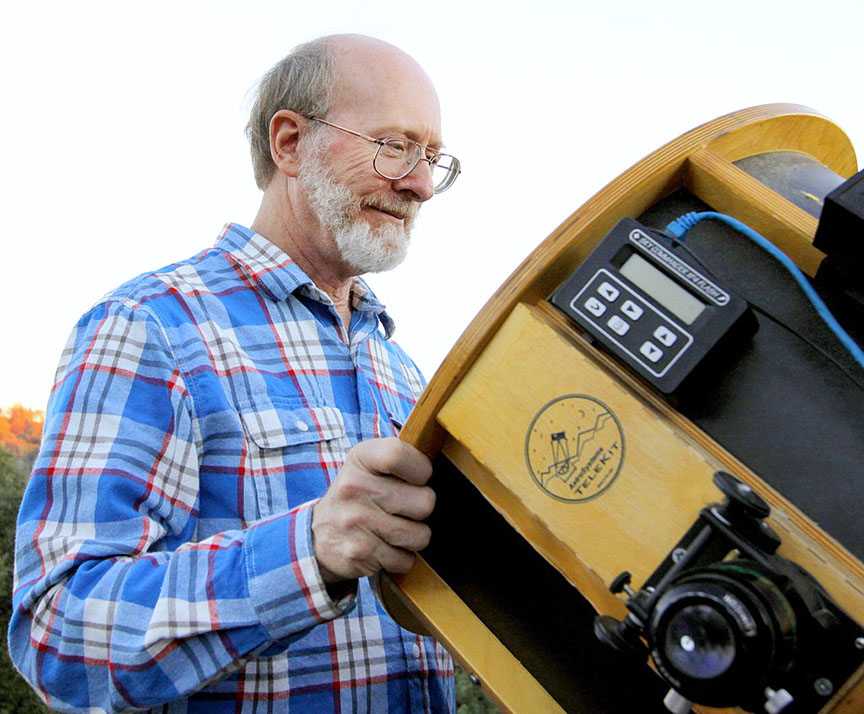 For more details, go to the Central Bureau for Astronomical Telegrams Transient Object Followup Reports and the Minor Planet Center's Possible Comet Confirmation Page, where you can select "DM001" and click ephemerides to get updated positions.
It's so exciting to have a new comet discovery, especially a visual one made by an amateur astronomer. I'm as eager as you to train my telescope on this new visitor. Clear skies!
** Update: (November 10th) I looked for the comet this morning (November 10.48 UT) and was surprised how easy it was see in my 10-inch f/4.5 Dob. I star-hopped to the position at 56× and bingo, there it was! I estimated magnitude 9.5 with a well-condensed (DC=5) coma 3.5′ wide and a hint of a westward tail. A Swan Band filter modestly enhanced the comet's visibility. Using higher magnification I discerned a faint, a ~13-magnitude stellar nucleus. More observations of the comet reveal the perihelion date is likely December 3rd, when it will approach within about 56 million kilometers of the Sun.
** Update: (November 11th) The comet appears to be brightening, with some observers spotting it in 56-mm binoculars. Estimates range from magnitude 8.5 to as bright as 7.5. This is an easy object! And while you're out, don't forget to look low near the horizon just as twilight starts for a close pairing of Venus and Spica.
** Update: (November 11th) Our comet just got an orbit and official name: C/2018 V1 (Machholz-Fujikawa-Iwamoto). See map and caption below for more details.