October is always pleasant for observing the night sky because evenings are cool and come relatively early. Use our downloadable stargazing podcast to find all the month's highlights.
Without a doubt, the big sky events this month are a pair of cosmic coverups — a total lunar eclipse on October 8th, the night of full Moon, and then a partial solar eclipse two weeks later on the 24th, when the new Moon slides directly between us and the Sun.
Planetwise, the pickings are getting slim. Mars and Saturn are both observable low in the southwest after sunset as October opens, but by Halloween Saturn will have disappeared in the twilight glow.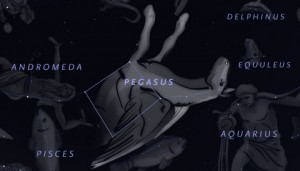 When stargazing in October, Pegasus, the Winged Horse, leads the constellation parade. Find it easily by spotting the large square of four stars that represent its upside-down body. Over in the north, look for the Big Dipper low down and queen Cassiopeia's "W" high up, a pair of distinctive, circumpolar star patterns that frame the north celestial pole and Polaris.
October's sky is rich with observing possibilities, and you can find out about these and others by downloading the 8-minute-long stargazing podcast below.
Download the podcast here.
And there's even more great skywatching advice in the October issue of Sky & Telescope magazine.