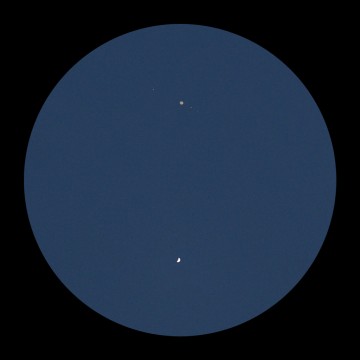 For the last few weeks, countless numbers of the world's 7 billion people watched the western evening sky as the two brightest planets, Venus and Jupiter, edged closer and closer to one another. Last night, June 30th, they reached their least separation: 0.3° apart (at the time of twilight for the Americas).
But this celestial dance is far from over. Tonight Venus and Jupiter will still be only about 0.6° apart, as seen from the Americas, and 1.0° tomorrow night. Then they start to say goodbye and will journey apart as they sink deeper into the afterglow of sunset throughout July.
We've been lavished with lovely photos from our readers and thought we'd share a few below. Check out our online Photo Gallery to see them all, and submit your own.
Enjoy the show, both here and by eye outside!