Update (March 10, 2016): Scroll down to see a slideshow of photos from tour group members.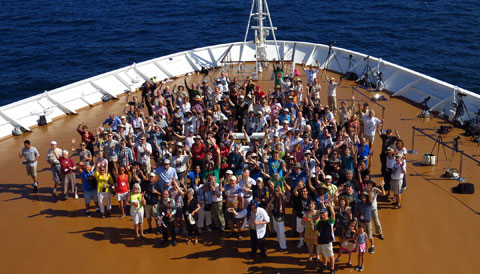 On the morning of Wednesday, March 9th local time, about 240 members of the Sky & Telescope/Insight Cruises group were treated to a spectacular total solar eclipse under near-perfect sky conditions.
We were positioned on the bow of the ms Volendam, a Holland America Line cruise ship sailing northward in the Makassar Strait between the islands of Borneo and Sulawesi (formerly known as The Celebes). Although an occasional stray cloud briefly interrupted the early partial phases of the eclipse, Volendam captain James Russell-Dunford skillfully navigated the ship under a giant cloudless patch of sky for the entire 2 minutes and 45 seconds of totality.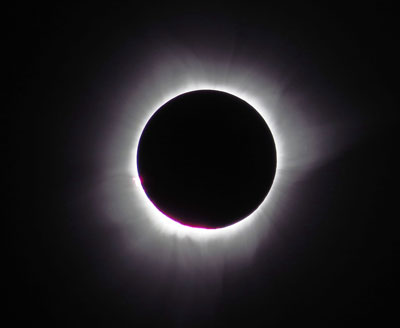 As is typical, the eclipse went by so fast that it seemed to last only a minute or so. But my fellow shipmates and I were treated to a spectacular diamond ring that seemed to persist longer than usual, several prominences on the left solar limb and an extended corona with eye-catching streamers and whorls. The corona was much larger and structured than I expected, given the fact that telescopic views of the Sun prior to the eclipse revealed only one sunspot (and a rather small one at that), which suggested that the Sun was not particularly active. About the only major eclipse phenomenon that we didn't see was shadowbands.
Viewing the Solar Eclipse with Friends, Old and New
Our group included people seeing their first eclipse as well as veteran eclipse-chasers who've ventured all over the world to bathe for a few minutes at a time in the Moon's shadow. Even the veterans reported that this was one of the better eclipses they have ever seen, even if it was not necessarily the longest. Our group included eclipse aficionados from the U.S., Canada, South Africa, Australia, Chile, and many European nations. I can't begin to describe how wonderful it is to meet people from all over the world who share the same love of celestial phenomena.
"Our third eclipse was the best ever because of the ambience of the group," affirms group member Frank Klicar from Downers Grove, Illinois. Kory Klimoski, from Landstuhl, Germany, agrees: "Best eclipse adventure yet! Not only was it a great show, but the group was a fabulous mix of scientists and amateur astronomers."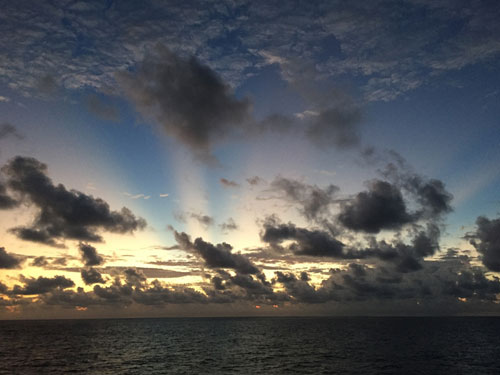 The mood about an hour before first contact was one of nervous anticipation because of numerous clouds on the horizon. But as the morning progressed before first contact at 7:25 a.m. local time, the clouds started to dissipate. The mood became increasingly festive as the eclipse progressed and it was becoming increasingly obvious that the few clouds in the sky would not interfere with our view. Everyone in our group noticed the temperature and sky brightness dropping in the minutes before totality.
A huge roar went up as the last bit of Sun hid behind the Moon at about 8:35 a.m. Although I focused my gaze primarily at the eclipsed Sun, I looked around and noticed that the horizon in all directions was a little brighter than I expected (there was no land in sight). Mercury and Venus were easily visible to the upper-right of the eclipsed Sun, and I also was able to snap a few wide-angle photos showing the dark hole in the sky surrounded by a fuzz of brightness. It was easy to imagine why people would be terrified of a total solar eclipse if they didn't understand what was going on.
"A total solar eclipse from a cruise ship is a surreal experience," adds Greg Bryant, former Editor in Chief of Australian Sky & Telescope. "You see right down to the horizon and it gives a whole new perspective to what I call the black hole in the sky. My previous total solar eclipse was 30 seconds. This one was 2 minutes 40 seconds, and I'm not going any less again."
The ship was rock-steady during the entire duration of totality, and several members of our group took some great zoom shots of the eclipsed Sun. I could barely even tell that we were on a moving ship.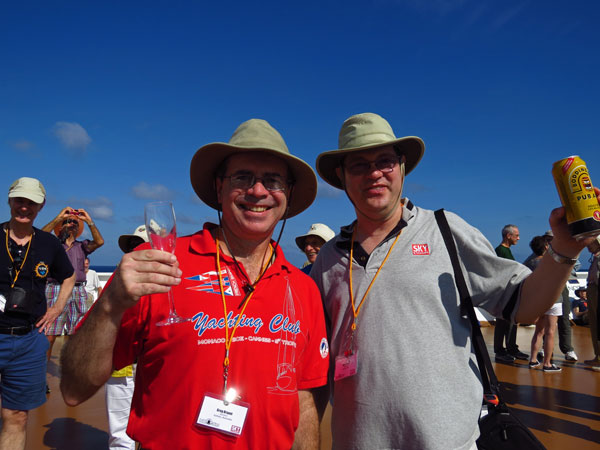 After totality, people celebrated with cheers, laughter, and hugs. "This was an awesome day and made me want to cry. It was so cool, it made me laugh instead," says Fred Niemiec.
The highly professional crew of the Volendam served breakfast and drinks before, during, and after the eclipse, and I'm not embarrassed to report that a not-insignificant number of people in our group had no qualms about partaking in alcoholic beverages despite the early-morning hour.
View a selection of images from S&T tour group members:

For more images, see the
Solar Eclipse section
of our
Online Photo Gallery
.
Cruising Around Indonesia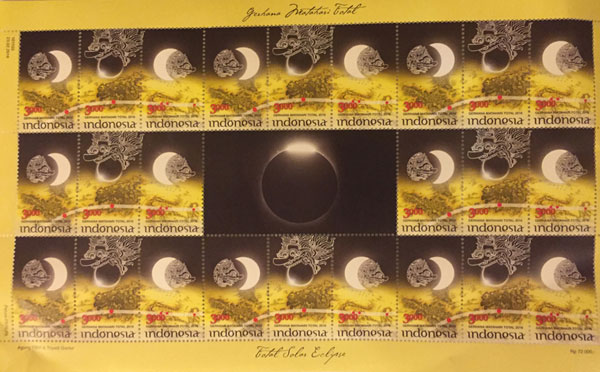 The cruise originated on March 1st from Singapore, a remarkably clean and modern city-state just off the tip of the Malay Peninsula. We have since made shore excursions in four Indonesian cities: Jakarta (the capital and largest city) on the west end of Java, Semarang in central Java, Probolinggo in eastern Java, and Makassar (also known as Ujung Padang) on Sulawesi. Everyone in our group has been deeply impressed by the hospitality and friendliness of the Indonesian people.
For me, the highlight so far has been a visit to the giant and intricately decorated Buddhist temple known as Brodobudur (near Semarang), constructed in the 9th century by a civilization whose origin, nature, and fate remains largely shrouded in mystery. It boggles my mind why this magnificent structure is not better known to the rest of the world.
Our cruise ends on March 17th in Singapore. But before then, we will make stops on the islands of Komodo (where I hope to see a Komodo dragon), Lombok (site of a cataclysmic Mount Rinjani volcanic eruption in 1258 AD), and Bali. And on most days, members of our group are being treated to scientific lectures by Greg Bryant, MIT physicist Edmund Bertschinger, University of Hawaii planetary astronomer David Tholen, Washington University of St. Louis geologist Michael Wysession, and yours truly.
The success of this year's eclipse cruise has whetted our appetite for next year's Great American Eclipse, which crosses the continent from Oregon to South Carolina on August 17th. Sky & Telescope will be running a land tour based out of Nashville, Tennessee. If you have never seen a total eclipse or never visited the United States, this is your golden opportunity to experience one of nature's grandest spectacles.
For other reports on March 9th's total solar eclipse, see "Total Solar Eclipse Reports from Indonesia".