Skygazers thronged to Indonesia hoping to see a total solar eclipse — and most were rewarded with breathtaking views of the event.
One story in the rich mythology of Indonesia tells of the evil giant Batara Kala, god of the underworld, whose disembodied head devours the Sun in a fit of anger. With Earth plunged in darkness, fearful villagers bang on drums until he disgorges the Sun and life returns to normal.
Many parts of this island nation were anything but normal over the past 24 hours, as eclipse-chasers from all over the globe converged there to witness this year's total solar eclipse. The Moon's shadow swept across the region on the morning of March 9th (local time) and plunged a 150-km-wide path into darkness for 2½ to 4 minutes, depending on location. The event occurred late on March 8th in North American time zones.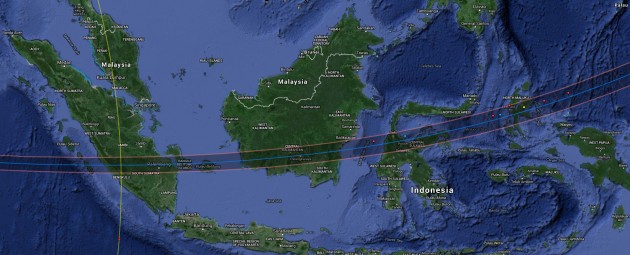 Reports received by Sky & Telescope indicate that virtually everyone saw something of totality. In some locations thin to moderate clouds interfered during the critical climax, giving those on the ground a veiled view of the Sun's corona.
For example, S&T Contributing Editor Govert Schilling struggled to see the corona from Tuva, a small village on Sulawesi. Eclipse veteran Jay Pasachoff (Williams College) and his group likewise had partially obstructed views from a 16th-century fort at the southern tip of Ternate.
But many others enjoyed all aspects of this tropical totality under clear, blue skies. Documentary filmmaker Nelson Quan observed from the west coast of Sulawesi. "Happy to report that we have full success! Not even a cloud in sight!" Quan says. "We were able to see 2:35 of totality — Venus, Mercury, and even Saturn!" And, as if that wasn't enough drama for one day, he adds, "I proposed to my girlfriend right after totality ended, presenting her the 'third' diamond ring — and she said yes!"
"What an eclipse!" report Patrick and Joanne Poteivin, who watched from a helicopter pad in Balikpapan, near the tracks northern limit on Borneo. "Only slight haze now and then. Asymmetric corona, with bright and prominent snow-white streamer. Venus, Mercury easily visible long before and shadow bands post totality. Not too much light intensity or temperature drop." Among their many take-home treasures are a set of images shot through a hydrogen-alpha filter.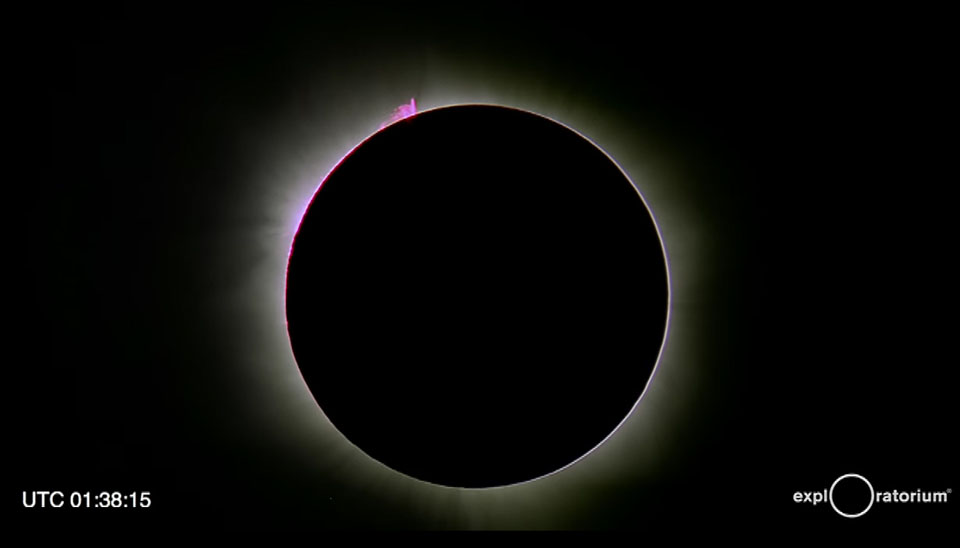 Everyone has remarked about the stunning prominence jutting from the Sun. Owing to its placement on the northern limb, this crimson eruption remained in view throughout totality.
Some observers had science, not spectacle, on their minds. Matthew Penn (National Solar Observatory) brought five teams of student-mentor pairings to Indonesia as a test run for a much bigger citizen-science project called Citizen CATE. "This was a practice run for the 2017 eclipse," Penn explains, "and our teams had no eclipse experience at all: none of the students had even been out of the country before. Now they will be returning to their home universities and will act as local experts for training the volunteers for 2017."
Penn says the team of instructor Bob Baer and undergrad Sarah Kovac from Southern Illinois University Carbondale ended up getting the best images with a prototype setup. Other teams came from University of Wyoming, Western Kentucky University, and South Carolina State University. NASA provided funding for the travel and the training program for the students. Click here for an animation of the team's preliminary results.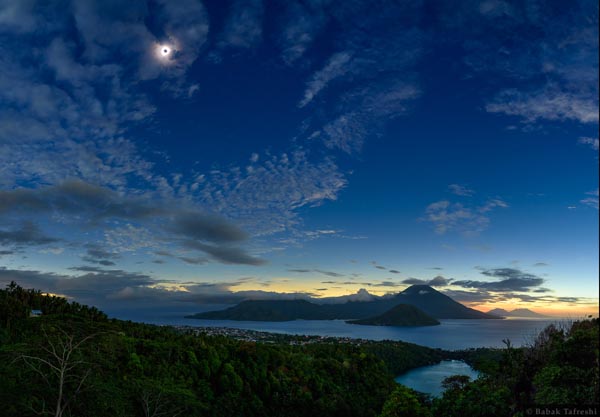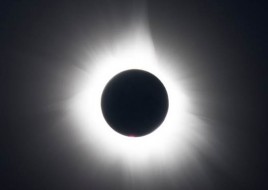 Elsewhere, several ships, both commercial cruises and last-minute charters, managed to get into the umbral path and found generally clear skies. Two former S&T editors-in-chief were afloat for the event.
Rick Fienberg, aboard Le Soleal in the Molucca Sea, witnessed 3 minutes of totality. "We observed nearly the entire eclipse," he reports, "from first through fourth contact, in a clear blue sky with only scattered clouds."
Bob Naeye helped lead a 240-strong Sky & Telescope group aboard the ms Volendam in the Makassar Strait between the islands of Borneo and Sulawesi. Read Bob's fascinating recap here.
Eyes in the Sky
As has become more typical during total solar eclipses, several planes maneuvered into position to catch the spectacular merger of Sun and Moon near the horizon. And while commercial flights are known to have unwittingly found themselves in the Moon's shadow, the saga of Alaska Airlines flight 870 breaks new ground. The plane and its passengers intercepted the eclipse path 695 miles north of Honolulu — and that was no accident. Hats off to meteorologist and devoted eclipse-chaser Joe Rao, who first noticed (a year ago!) that the timing of this Anchorage-to-Honolulu flight would be very close to the Moon's shadow. Rao convinced the airline to adjust the flight's departure to put the plane in the right place at the right time.

It all succeeded spectacularly. Prior to takeoff, Alaska Airlines execs substituted an even newer Boeing 737-900 for the usual 737-800, and ground personnel meticulously cleaned all the windows. "The most memorable feature of this eclipse was the approaching elliptical lunar shadow, moving at nearly 8,000 miles per hour, looming as one passenger reported, like a 'tornado of darkness'," Rao says. And from veteran eclipse-chaser Dan McGlaun: "The best experience ever! Pilots did a perfect job, and we hit it perfectly! A beautiful eclipse, and many excited passengers!"
One other commercial airplane, Garuda Indonesia flight 649, slipped into the path of totality during its trip from Jakarta to Ternate. Passengers experienced about 2½ minutes of totality — though actually seeing that proved challenging through the plane's windows, as the the Sun's elevation was 38°. A privately chartered eclipse flight, involving a Falcon X aircraft, dramatically intercepted the Moon's shadow while at an altitude of 48,000 feet.
This is just a sampling of the dozens of personal firsthand recollections that have flooded my email this morning. Some of the most interesting (to me, anyway) involve the reaction of local residents to all the hubbub — and the rare sight of foreign visitors in their villages and along their roadways. "One local told me yesterday that the people here were far more excited by all the international visitors than by the eclipse itself," notes David Baron. "I think that was true this morning. We were as much a spectacle as what was happening overhead."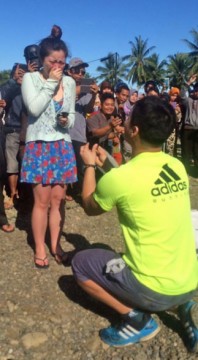 "On Belitung, huge group of the locals turned up to watch the eclipse," comments Daniel Lynch. "I was happy to show them pictures and let them look through my lens. They all seemed very well prepared. Most people already had eclipse viewers."
It's a far, far cry from what occurred during a total solar eclipse that crossed Indonesia in 1983. Back then, government officials warned people to stay indoors, fearing that that the curious would stare at the Sun and blind themselves. Some pregnant women reportedly not only remained indoors but even hid under their bed covers.
Yesterday, that embarrassing episode was a distant memory. Still, many Muslims took time to pray before, during, and after the eclipse — a dedication I'd witnessed firsthand a decade ago during a total eclipse in Libya. One of my own group of local people prayed before and after the eclipse but watched totality in full," says Kate Russo, an Aussie eclipse-chaser who lives in Northern Ireland. "He was praying to ensure that his pregnant wife, who was watching with us, was not harmed by the eclipse. Although he understood logically this would not happen, he still felt it was important to pray and give thanks."
Makes perfect sense to me: I'm always thankful to be able to stand in the Moon's shadow. Yesterday was my first missed opportunity since 2001, and I'm a bit sad about that. But I am already looking forward to the next such opportunity: a grand solar eclipse crossing American soil on August 21, 2017.
---
Be sure to check out Sky & Telescope's plans for viewing next year's total solar eclipse.