It's rare that two sizable asteroids pair together in the sky as closely as Ceres (the biggest of all) and Vesta (the brightest) in early July.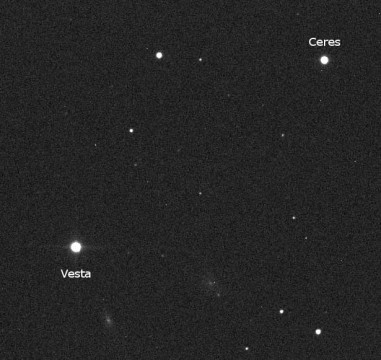 For the past few months, two of the biggest and brightest asteroids — 1 Ceres and 4 Vesta — have been gliding in parallel just 2° or 3° apart in eastern Virgo. They've been visible in binoculars all that time and gradually drawing closer together in the sky.
This week their months-long dance reaches its denouement, as the king and queen of the asteroid belt appear to embrace closer than anyone has ever seen them. They'll appear just 10 arcminutes apart (a third of the Moon's apparent diameter) on the evenings of July 4th and 5th in the Americas (July 5th and 6th Universal Time). They'll remain near one another for the next few weeks, separated by 2.2° on August 1st and by 5° on September 1st.
How to Spot Ceres and Vesta Tonight
If you've always wanted to view an asteroid, this is a great opportunity. Right now the Ceres-Vesta pairing is moderately high in the southwest at nightfall (30° high if you're near 40° north latitude), so you'll have time to track them down shortly after twilight ends before they become too low.
Mars and the star Spica are your starting points, as shown on the wide-field chart below. This planet-star pairing has been tightening as well: they're 5½° apart on July 1st and just 1.3° apart on July 13th, the date when they appear closest together. They'll be joined on the evening of July 5th by a just-past-first-quarter Moon that skirts especially close to Mars.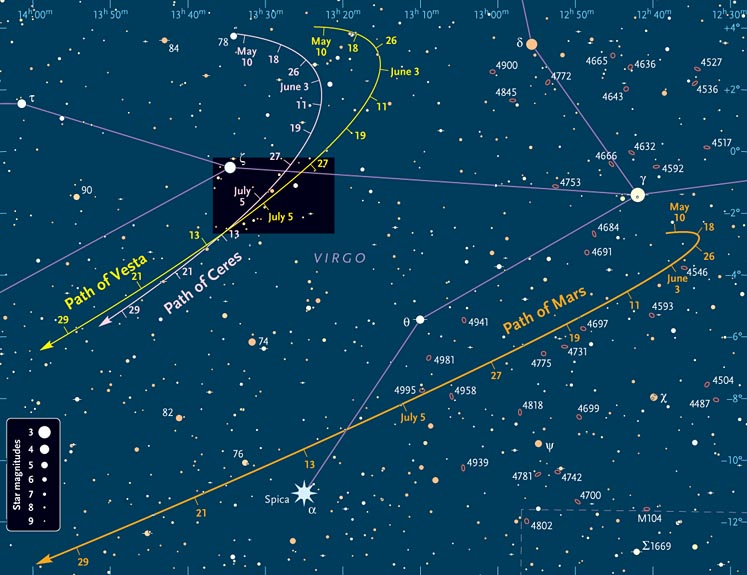 Look 10° above the planet-star combo — the width of your fist on an outstretched arm — to find the 3rd-magnitude star Zeta (ζ) Virginis, also known as Heze. It's the faint peak of a narrow, wizard-hat-shaped triangle with Mars and Spica at its base. Ceres and Vesta are inside that triangle, situated roughly side by side and just 1½° below (southwest of) Zeta.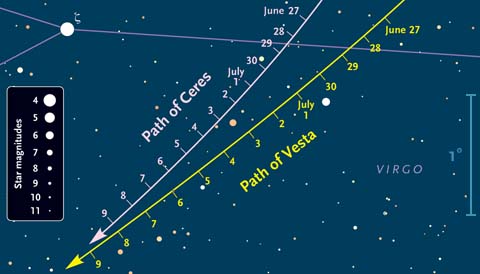 If you carefully note the asteroids' positions, you should be able to monitor their night-to-night motion (likewise about 10 arcminutes) with respect to the surrounding stars.
These two "dwarf planets" were  brightest when at opposition back in April, and since then they've lost some luster. In early July, Ceres is magnitude 8.5 and brighter Vesta is 7.2. And yet Ceres, with a diameter of 585 miles (940 km), is nearly twice as large as Vesta. It looks fainter partly because it's farther away — 46 million miles (74 million km) beyond Vesta on July 5th — and because it's farther from the Sun as well. So, while they look close together in the sky, they're really not.
Ceres also has a much darker surface. Vesta is medium gray, reflecting 42% of the sunlight striking it (a high albedo, or reflectivity, for an asteroid), while Ceres is a more typical dark gray-brown with an albedo of only 9%.
If it's cloudy or you don't have a telescope handy, you can watch the pairing of Ceres and Pallas online. Choose between Slooh's webcast (which begins July 3rd at 8 p.m. Eastern Daylight Time) or Gianluca Masi's Virtual Telescope Project (July 5th at 4:00 p.m. EDT).
Quite near the two asteroids on the sky, though utterly invisible, is NASA's Dawn spacecraft. It's en route from its successful 2011-12 mission at Vesta to its next mapping project at Ceres, where it will take up permanent orbit next March. Hubble images reveal Ceres to have a patchwork of bright and dark markings — hints of interesting landscapes awaiting Dawn.
---
Keep tabs on major celestial happenings throughout the year with SkyWatch 2014.